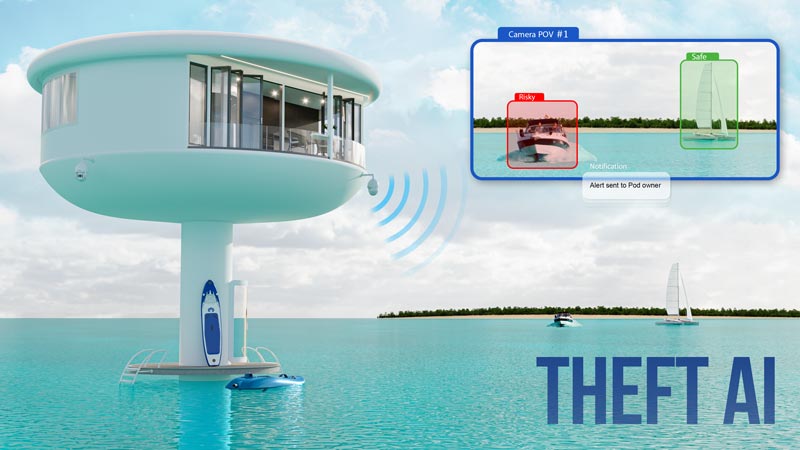 Problem / Challenge Description:
This project search to offer protection and peace of mind for SeaPod and EcoPod residents by using AI systems to detect and classify approaching boats. This will allow to create a database of potential threats that can be used for theft prevention, notifications, alarm systems and other use cases.
Solution:
Use camera's located on aerial drones, floating buoys, or SeaPods to build a database of boats (sailboats, boats, ships, kayaks, and possibly even SUP's) using live and/or recorded video and/or still photo's
We should have a learning mode where we feed in video footage of boats in an area we want to scan and then have a normal mode where cameras are on standby identifying boats in the area as they approach or pass by
It would be ideal if the camera position/angle could be at different heights above the water so we could easily accept image inputs from various devices with different heights
Be able to identify a vessel even from angles that have not been specifically captured on video or photo before
It would be ideal to be able to manually fly a drone around an area to build a catalogue of all vessels in an area which would be processed in the software to identify all the local boats.
Share data to a central database so our recognition software can identify a known boat in different locations. For example if we have 10 SeaPod's spread out over a 100 kilometer area and one boat travels into camera range of each SeaPod we should be able to identity them at each location they go to be cause they are already in our central database. I don't know the best way to accomplish this… would we need to upload high resolution video so it could be matched on an AI system in the cloud?
We should define a set of matching criteria (mast, color of hull, color of deck, size, shape, barbeque, wind generator, and other prominent features) and have percentage match for each item and set the criteria for how much of a match we need to have to consider that we know the identity of the vessel
We should be able to bring the data into our backend service that can monitor vessels and even give custom labels and tags to each vessel (known/unknown, friendly/hostile/known thief, boat, and any other tags we want to assign to them (BACKEND)
It would be nice to have a camera mounted on a seapod or buoy that is very high resolution which is basically scanning a wide area continuously and when they see a vessel a new vessel come into view it zooms in to try to identify them and if it is not a known vessel we should add it to our database.
If there is a visible vessel name we should save that data
We should be able to tag a boat by the make/brand/model if it is known
The backend software should send an alert if a known thief is getting too close to a SeaPod (BACKEND)
Speed and direction of a vessel would be nice to know so if they are heading straight for us we can estimate the time until it arrives
Where would the processing for all of this be done? In some cases we could connect multiple cameras from multiple SeaPods and a combination of SeaPods, buoys, drones or other camera inputs with known locations so we can determine the trajectory of a vessel
Incentives:
Highlights of working on this project
• Collaborate with talented people from different domains and areas of study and expertise
• Build a strong team with people from diverse cultures and backgrounds
• Learn project management, project reporting, delivery cycles
• Work in a highly energized environment that focuses on high quality product development
• Discover, learn, innovate, and invent new ways for preserving and growing marine life
• Have fun in a super charged team of professionals students, collaborators, sponsors
For Contributors
• Remuneration – This is not a sponsored project. You will get credits, honorable mentions and a Certificate of Contribution from Ocean Builders.
• Learning – This project offers you opportunities to learn about this concept/topic/technology. You will get to collaborate and work with industry experts and professionals who will share their experiences and guide you along with their best practices.
• Culture – Work with people from different backgrounds, cultures, nationalities and get exposure to working on cross-functional and virtual teams.
• Get Your Hands Dirty – Roll up your sleeves and get practical on this project. Experience the joy of designing or building a machine/system/device that will be used by millions of people worldwide. If you are not co-located, video conference with your team and collaborate.
• Build and Grow your Professional Network – Collaborate on this project, make friends, and grow your professional network.
For Sponsors
• Top Talent – Work with talented people and find new recruits for your business as you see this project take shape.
• Goodwill – Get positive goodwill for your brand as a sponsor who is building something innovating and contributing to the future.
• Personal and Business Use – Use this system and technology for your home/boat/ship/company/organization
Branding – Brand it with your organization identity.
• Monetize – Invest in his project and take it to market with your brand identity
For Users
• Get involved in the design phase and share your thoughts on how you would use this product or technology in your daily lives.
• Give feedback at regular intervals and development stages to help this team to design and build a user-friendly system or technology.
• Work with people from different countries, cultures, backgrounds and experiences. It's fun!
Academia
Get Recognition – Participate as an academician/student and contribute to research papers, college projects and participate in local, state, national, and international academic or technical conferences. Present papers on the innovations and advancements that have been made.
All of the above
Ocean Builders invites you to be a part of this project. You can be a sponsor, a contributor, a user, an academician AND you can be all of the above.
Remuneration:
You will get credits redeemable for partial ownership of a SeaPod, education credits, get credited on papers and blog posts, honorable mentions and a Certificate of Contribution from Ocean Builders.