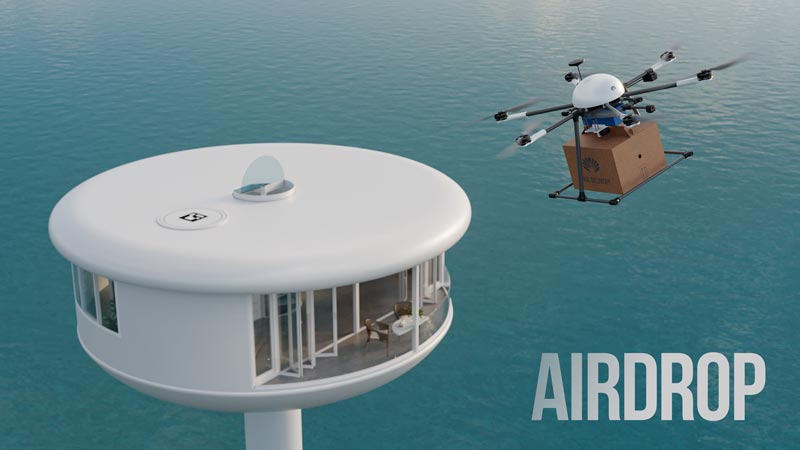 Problem / Challenge Description:
The drone delivery system is designed to deliver medicines and medical supplies, other packages like food, drinks, groceries, and other items like clothes, diving material, toolkits, etc., from one point to the another, travelling over distances of at least 30 nautical miles (55.6 kilometers). Powered by powerful propellers, the hexacopter drone is designed to reach a top speed of 60 KMPH.
People living in sea pods or on ships may run out of stock of necessary items like medicines, food, groceries and other items like clothing, diving equipment, tools. This happens when items, spoil, expire or malfunction when needed most, especially in case of emergencies. Sailing back may take time and effort.
A drone delivery system addresses this problem by providing a high-speed pick-up and drop service to SeaPods, and ships.
Solution:
This project require coordination of several modules:
– A hexacopter drone that can transport payloads of up to 20 kilograms.
– A Drone Pickup/Landing Platform: A retractable landing platform is installed in each SeaPod. This serves as a pickup/drop point for the drone to deliver or collect payloads from the SeaPod.
– Storage container clasps: A set of 4 container clasps are installed at the base of the drone. These are mechanical clasps to grip the container, hold the container during the flight and release the container after the drone has landed. The clasps are automatically programmed in the software application to release the container on landing and grasp the container after a user command is received.
– Storage containers: The storage container is used to store items that are meant for pick up delivery. The container is water proof and can automatically picked up or dislodged by the drone.
– Cameras: High resolution cameras are placed around the body the drone.
– Lights: A set of high powered lighting system to illuminate the sea for better visibility and picture quality.
– Software Application: A software application controls the drone operations for pickup and drop services. It has the following high level requirements:
– User sign up and authentication module
– Role-based access control
– Integration with drone GPS to specify pickup and drop points.
– Weight calculation based on inventory
– Billing module
– Inventory module (similar to a shopping cart application)
– Scheduling and delivery module
– Special delivery or emergency requests module
Incentives:
Highlights of working on this project
– Collaborate with talented people from different domains and areas of study and expertise
– Build a strong team with people from diverse cultures and backgrounds
– Learn project management, project reporting, delivery cycles
– Work in a highly energized environment that focuses on high quality product development
– Discover, learn, innovate, and invent new ways for preserving and growing marine life
– Have fun in a super charged team of professionals students, collaborators, sponsors
For Contributors
– Remuneration – This is a sponsored project. You will get paid for your contributions. Find out more from your project manager/project coordinator.
– Learning – This project offers you opportunities to learn about this concept/topic/technology. You will get to collaborate and work with industry experts and professionals who will share their experiences and guide you along with their best practices.
– Culture – Work with people from different backgrounds, cultures, nationalities and get exposure to working on cross-functional and virtual teams.
– Get Your Hands Dirty – Roll up your sleeves and get practical on this project. Experience the joy of designing or building a machine/system/device that will be used by millions of people worldwide. If you are not co-located, video conference with your team and collaborate.
– Build and Grow your Professional Network – Collaborate on this project, make friends, and grow your professional network.
For Sponsors
– Top Talent – Work with talented people and find new recruits for your business as you see this project take shape.
– Goodwill – Get positive goodwill for your brand as a sponsor who is building something innovating and contributing to the future.
– Personal and Business Use – Use this system and technology for your home/boat/ship/company/organization
– Branding – Brand it with your organization identity.
– Monetize – Invest in his project and take it to market with your brand identity
For Users
– Get involved in the design phase and share your thoughts on how you would use this product or technology in your daily lives.
– Give feedback at regular intervals and development stages to help this team to design and build a user-friendly system or technology.
– Work with people from different countries, cultures, backgrounds and experiences. It's fun!
Remuneration:
You will get credits redeemable for partial ownership of a SeaPod, education credits, get credited on papers and blog posts, honorable mentions and a Certificate of Contribution from Ocean Builders.