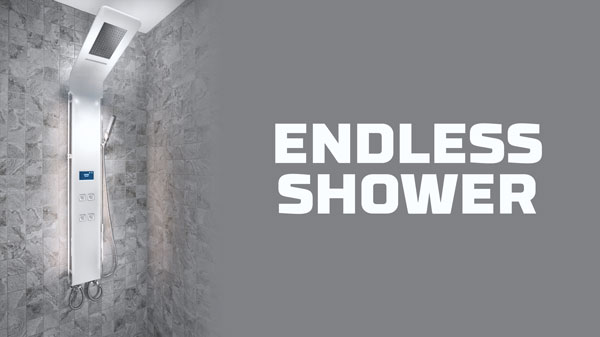 Problem / Challenge Description:
We want to be able to have a normal shower experience rather than what is usually available on a boat. Usually you have a small amount of water available for showering on a boat because water is heavy and water for a 20 minute shower takes up a lot of space and if you used that much water you would not have a lot of water available for other uses on the boat and you will also have to store the used water in a greywater tank. Our goal is to have a solution that allows you to have a normal shower experience and use 2 minutes worth of water in a 20 minute long shower. Any solution we develop here can also be brought back and used on land based homes to help reduce peoples water consumption especially in areas with water shortages.
Solution:
Use a Nebia showerhead that reduces water consumption by 40-60%. Nebias special design allows you to use less water while providing a superior showering experience with high pressure waterflow at significantly reduced water usage thanks to its microjets.
Use a Hydroloop for recycling greywater
Use the open source Showerloop technology for reusing 90% of the water going through a shower
Use electrocoagulation to pretreat water before going into a Reverse Osmosis (RO) system
Use Reverse Osmosis to produce clean water that is healthy ad safe to use as drinking, tap, washing, and shower/bath water.
Incentives:
Project Prizes
Winner(s) for each level will be judged by Ocean Builders and the Sponsor.
Level 1: Submit a detailed outline of your proposal. The proposal should detail a realistic plan for the simplest, easiest, and lowest cost method of completing as much of this project as possible and a proposed timeline and cost estimates for various parts of the project. The prize for this level is set to $100. Level 1 winners may be supplied parts to build Level 2. You must be able to complete Level 2 & 3 in Panama or deliver it ASAP.
Level 2: Build a working showerloop + water intake system according to our specifications (details coming soon). This system includes a water intake system shown in the diagram below. Some research will be needed to find the appropriate components. The prize for this level is set to $2,000. Only one team or individual applicant will be selected. Level 2 participants may be supplied with parts to build Level 3.
Level 3: Add automation hardware and sensors to the system which can be connected to our smart home platform to turn on/off the shower/bath, adjust temperature, etc. This level only requires you to add pre-defined (by Ocean Builders) elements into the system which will be connected later to our backend control platform. The prize for this level is set to $750. Level 3 winner(s) may be supplied parts list to build Level 4.
Level 4: Optimize the system built in Level 2 for a minimum of 80% water recycling. The prize for this level is set to $500.
COMPLETION BONUS: Up to $1,000 if the project is completed on schedule or ahead of time.
BONUS 2: Connect to the Ocean Builders backend server with APIs. The prize for this bonus is $500.
Remuneration:
You will get credits redeemable for partial ownership of a SeaPod, education credits, get credited on papers and blog posts, honorable mentions and a Certificate of Contribution from Ocean Builders.