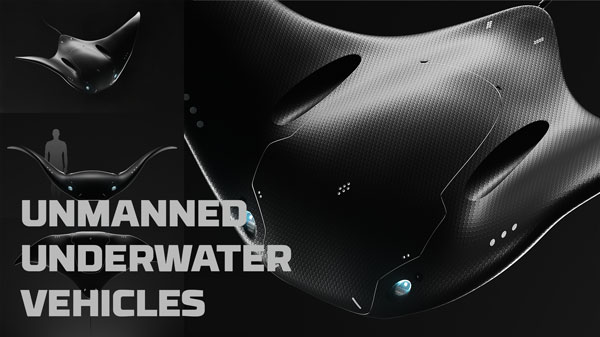 Manta – Unmanned Underwater Vehicle (UUV)
Problem / Challenge Description:
Manta, the unmanned underwater (UUV) vehicle is designed to deliver medicines and medical supplies, other packages like food, drinks, groceries, and other items like clothes, diving material, toolkits, etc., from one point to the another, travelling over distances of at least 30 nautical miles (55.6 kilometers). Powered by powerful propellers, Manta-1 is designed to reach a top speed of 50 knots (92.6 KMPH) underwater. The dedicated payload compartment in Manta-1 houses a mini fridge and freezer to keep medicines, groceries fresh.
People living in sea pods or on ships may run out of stock of necessary items like medicines, food, groceries and other items like clothing, diving equipment, tools. This happens when items, spoil, expire or malfunction when needed most, especially in case of emergencies. Sailing back may take time and effort.
Manta-1 addresses this problem by providing a high-speed pick-up and drop service to SeaPods, and ships.
Solution:
The following components are required to build Manta-1.
Jet propulsion booster system – To propel Manta-1
Body – A water-proof and aerodynamic body that hold a payload of 350 kilograms, house antennas, sensors, lights, circuits.
Docking station – A docking station that is installed at all terminals. The docking stations charge Manta-1 and unlock storage chamber.
Storage chamber – A modular chamber with a number of smaller chambers of different sizes. Each smaller chamber can be opened with a unique code generated from the Manta software application.
Cameras – Multiple underwater cameras that can take high resolution pictures and transfer them to a computer.
Lighting system – A set of high powered lighting system to illuminate the sea bed for better picture quality.
SONAR – An active SONAR unit to map the underwater structures and surfaces.
Proximity sensor – Proximity sensor to safeguard the Manta from crashing into rocks and boulders in the water.
Salinity sensor – Salinity sensor and circuit to measure salinity of the water.
pH sensor – A pH sensor to measure the acidity or alkalinity of the water.
Thermometer – A thermometer to measure the temperature of water.
Antenna – An antenna that can exchange data from the source.
Transmitter – A transmitter that can receive signals from the sensory unit and relay the information to the software.
Manta Software – Software to schedule the pickup and drop points, schedules and payloads. The software also stores bathymetric data, high resolution underwater images, data from the sensors and writes it to a server for processing further.
Incentives:
Highlights of working on this project
• Collaborate with talented people from different domains and areas of study and expertise
• Build a strong team with people from diverse cultures and backgrounds
• Learn project management, project reporting, delivery cycles
• Work in a highly energized environment that focuses on high quality product development
• Discover, learn, innovate, and invent new ways for preserving and growing marine life
• Have fun in a super charged team of professionals students, collaborators, sponsors
For Contributors
• Remuneration – This is not a sponsored project. You will get credits, honorable mentions and a Certificate of Contribution from Ocean Builders.
• Learning – This project offers you opportunities to learn about this concept/topic/technology. You will get to collaborate and work with industry experts and professionals who will share their experiences and guide you along with their best practices.
• Culture – Work with people from different backgrounds, cultures, nationalities and get exposure to working on cross-functional and virtual teams.
• Get Your Hands Dirty – Roll up your sleeves and get practical on this project. Experience the joy of designing or building a machine/system/device that will be used by millions of people worldwide. If you are not co-located, video conference with your team and collaborate.
• Build and Grow your Professional Network – Collaborate on this project, make friends, and grow your professional network.
For Sponsors
• Top Talent – Work with talented people and find new recruits for your business as you see this project take shape.
• Goodwill – Get positive goodwill for your brand as a sponsor who is building something innovating and contributing to the future.
• Personal and Business Use – Use this system and technology for your home/boat/ship/company/organization
Branding – Brand it with your organization identity.
• Monetize – Invest in his project and take it to market with your brand identity
For Users
• Get involved in the design phase and share your thoughts on how you would use this product or technology in your daily lives.
• Give feedback at regular intervals and development stages to help this team to design and build a user-friendly system or technology.
• Work with people from different countries, cultures, backgrounds and experiences. It's fun!
Academia
Get Recognition – Participate as an academician/student and contribute to research papers, college projects and participate in local, state, national, and international academic or technical conferences. Present papers on the innovations and advancements that have been made.
All of the above
Ocean Builders invites you to be a part of this project. You can be a sponsor, a contributor, a user, an academician AND you can be all of the above.
Remuneration:
You will get credits redeemable for partial ownership of a SeaPod, education credits, get credited on papers and blog posts, honorable mentions and a Certificate of Contribution from Ocean Builders.