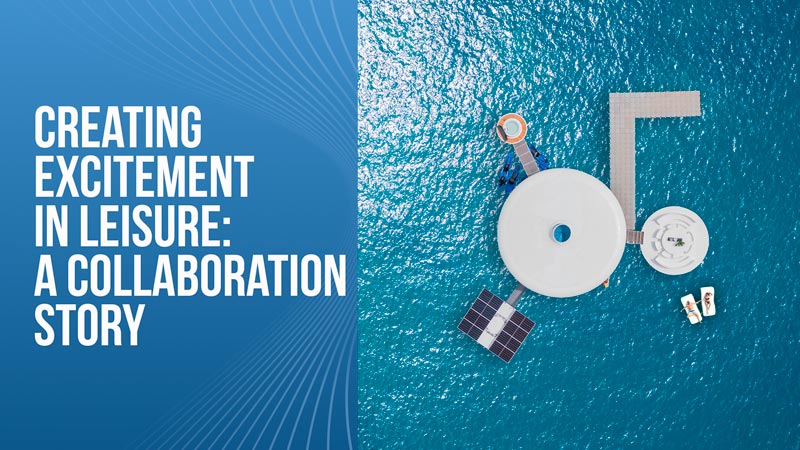 Less than 1 minute
Reading TIme:
Minutes
In the world of leisure and floating experiences, we thrive on collaborations that elevate the joy of our floating homes. This is precisely why we're thrilled to introduce the Looft Loungers as part of our SeaPod experience, revolutionizing the art of relaxation on the water.
Every Looft product has been carefully developed with the signature of Wibit Sports, the world's leading floating water park brand. This guarantees unmatched expertise, uncompromising safety and quality and the best user experience.
The ingenious creators of these breathtaking water parks have ignited my imagination for quite some time. I've always had a deep conviction that SeaPods and water parks could seamlessly come together, providing visitors with an extraordinary fusion of lavish lodging and exhilarating aquatic entertainment. It's effortless for me to imagine SeaPods becoming an indispensable component of such ambitious undertakings in the days ahead—a flawless marriage of leisure and groundbreaking innovation.
My journey began with the mission to find inflatables that could elevate the SeaPod experience for our rental program, aiming to enhance the SeaPod Lifestyle. Along this path, I stumbled upon Looft products, whose quality and simplicity perfectly aligned with our style and vision.
One evening, as I closed my laptop, I daydreamed about staying on a SeaPod surrounded by an array of water toys. Our cherished SeaPod has been a fixture at the marina for more than a year, and I longed to enjoy the waters around it without fully immersing myself. It was during this moment that I initially came across the Looft Lounger, though at that particular time, the circumstances weren't ideal, so I put the idea on hold.
A few weeks later, I found myself seated next to our CEO in the office, overhearing a conversation about water parks in the Middle East. It all sounded eerily familiar, so I leaned in with great interest. To my delight, I discovered it was one of the brilliant minds from Wibit Sports online. Pure joy when I discovered they are also the inventors of Looft Products! I wasted no time and sought permission from our CEO, Grant Romundt, to get in touch with Robert Cirjak, one of the Founders from Wibit Sport and a creator of Looft products.
Armed with a vision and a portfolio of images, we had a productive meeting that left us both optimistic about a collaborative approach to elevated water adventures. Meeting like-minded individuals always sparks exceptional conversations. We immediately connected over our shared passion for fun on the water and an active lifestyle.
Today, we proudly possess our Looft Loungers and eagerly anticipate sharing them with our guests.
The loungers have indeed demonstrated their exceptional qualities, offering unparalleled comfort and the promise of ultimate relaxation. I'm eagerly anticipating the day when our SeaPods will be featured alongside a Wibit Water Park, where this distinctive ergonomic sunbed will unquestionably create the ideal environment for limitless enjoyment.
GET THE LATEST UPDATES
Want to find out the latest updates?
Submit your email and we will keep in touch.
GET THE LATEST UPDATES
Want to find out the latest updates?
Submit your email and we will keep in touch.