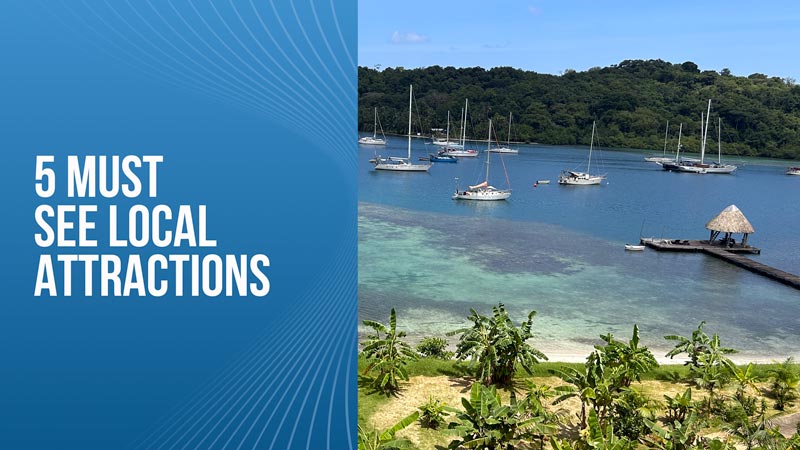 Less than 1 minute
Reading TIme:
Minutes
Come to the area of Portobelo! Cacique and Puerto Lindo offer an unique Afro-Panamanian experience while traveling in Panama. This area offers an off-the-beaten-path experience away from the typical tourist destinations.
The road from Panama City to Puerto Lindo might require some maintenance, but the natural beauty along the way compensates for any inconveniences. The lush jungle on one side and the vast expanse of the open ocean on the other create a picturesque journey. Additionally, the road is lined with little local shops and Caribbean-style restaurants, offering opportunities for exploration and sampling local cuisine.
On your way you can see Drake Island. It is named after the famous pirate Sir Francis Drake, this island is believed to be his final resting place. Legend has it that his fellow pirates dressed him in his uniform and gave him a sea burial here. Drake Island is also known for its vibrant reefs, abundant sponges, and thriving marine life, making it a must-visit spot for diving and snorkeling enthusiasts.
Portobelo is a charming village you'll pass through before reaching Puerto Lindo. It's renowned for its life-sized effigy of the Nazareo of Portobelo, which can be seen at the Cristo Negro Church. This figure holds a special place in the hearts of locals, with many attributing miraculous deeds to the Black Christ of Portobelo and sharing tales of divine intervention in the lives of its devotees.
Overall, this region offers a mix of natural beauty, historical significance, and cultural experiences, making it an intriguing destination for travelers looking to immerse themselves in the Afro-Panamanian heritage and explore off-the-beaten-path attractions.
Here is a list of 5 Must See Local Attractions in the area not to be missed.
1.Ocean Builders SeaPods: Experience the future of housing by staying on an eco-friendly SeaPod. These innovative structures provide a tranquil and immersive stay by the sea, offering comfort, sustainability, and stunning ocean views. It's a unique opportunity to reconnect with nature. At present the first Eco Pod is located in Linton Bay Marina, which is situated in Puerto Lindo.
Linton Bay Marina is located about 1.5 hours from Panama City. It is a popular destination for boaters and sailors exploring the Caribbean region.This marina is a less-visited area making it an ideal destination for those seeking a quieter experience. This marina is primarily frequented by yacht owners and crews traveling from San Blas or Cartagena.
2.Reef2Reef Foundation: This organization is dedicated to the restoration, conservation, and education of coral reefs in Portobelo. They are a local partner for future coral gardening projects in Puerto Lindo, working on sustainable research platforms to protect marine life and coastal communities.
3.Portobelo Adventures: Explore the jungle with the expertise of Jason Ashcroft, a knowledgeable guide who can enhance your experience by navigating challenges and providing insights into the local flora and fauna. Discover the natural beauty and cultural significance of the jungle while minimizing your impact on the ecosystem.
4.Ciel Y Miel: Visit this eco-resort in Cacique, a short drive from Puerto Lindo. Enjoy the panoramic ocean view, abundant birdlife, and fresh, well-prepared food. Relax in the turquoise-tiled infinity pool overlooking the bay and don't miss their newly built beach bar, nestled in the jungle.
5.Nature Villa Conservation Centre: Support the mission of this sanctuary for rescued animals while enjoying the local cuisine at their stunning restaurant and taking a dip in the infinity pool with breathtaking views. It's a place to unwind in harmony with the natural world.
In addition to these specific attractions, don't forget to explore the local shops and Caribbean-style restaurants along the road from Panama City to Puerto Lindo. You can also learn about the history and culture of the region, particularly in Portobelo, known for its Festival of Diablos and Congos. Diablos wonderfully costumed with elaborate outfits and masks to depict a tale of good triumphing over evil.
Puerto Lindo and its neighboring towns offer a quieter and less crowded Caribbean experience, perfect for travelers looking to learn about history and local culture. It's a place where you can disconnect from modern distractions and immerse yourself in the beauty of nature. If you're looking for a place to relax and enjoy the natural wonders of Panama, this area is definitely worth considering.
GET THE LATEST UPDATES
Want to find out the latest updates?
Submit your email and we will keep in touch.
GET THE LATEST UPDATES
Want to find out the latest updates?
Submit your email and we will keep in touch.