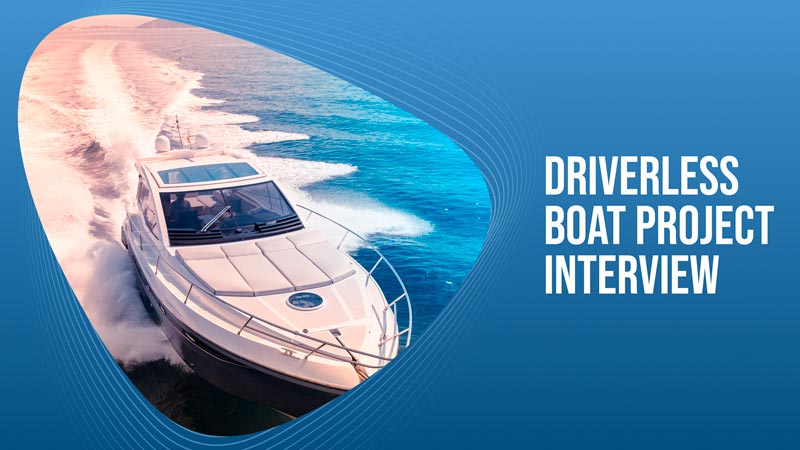 Less than 1 minute
Reading TIme:
Minutes
One of the exciting projects that we have been working on is our Driverless Boat project. Similar to the way that Tesla and Uber have been developing driverless cars and trucks on land, we are working on a boat that can drive itself to your destination while you sit back, relax, and enjoy the ride. Even in an emergency situation where you may be unable to drive your boat back to shore, a driverless boat could act as an ambulance to help you reach medical care faster.
These boats can be kept at your SeaPod or in the bay so that you can summon them when needed. The boat can drive to your SeaPod, pick you up, and take you wherever you want to go. They can also be deployed in marinas that have high traffic where people may need to come to shore from their boats which are too large to get close enough. These driverless boats could potentially create a network of water taxis to help safely move people around even if they don't live in a SeaPod.
As always, being eco-friendly is a huge priority, if not a requirement for us. These boats will be fully electric so that they won't have to burn fossil fuels on the water. They will have charging stations either at the SeaPod or at it's home-base in the marina so that they always stay charged up and ready to go. Additionally, we will be utilizing software from Seabed 2030 which is basically the Google Maps of the ocean so that we can make sure that we are navigating in safe areas and so that we can avoid any coral reefs or underwater obstructions.
Using technology like lidar, sonar, stereo cameras, and artificial intelligence, these boats will learn the areas that they serve and create an image of the surrounding areas so that they can operate safely. They will also use active object avoidance for things above the water like boats, pylons, or anything else that may obstruct the path of travel. Safety is the #1 priority when we have human lives on board.
The technology for these driverless human-transport boats has a bit of overlap with some of our other projects like the Aquascan drone boat or the unmanned delivery boat. While they share some similarities, having people on board presents some new challenges that we have to overcome.
This is a very technologically complex project so if you have knowledge or expertise in sonar, lidar, stereo cameras, machine learning, object identification/classification, or anything else that you feel may be able to help with this project, then feel free to reach out on our Contribute page or check out some of the other projects that we are working on on our Participate Now page. We always welcome incredible talent to help us with these incredible technologies so don't be afraid to reach out!
GET THE LATEST UPDATES
Want to find out the latest updates?
Submit your email and we will keep in touch.
GET THE LATEST UPDATES
Want to find out the latest updates?
Submit your email and we will keep in touch.