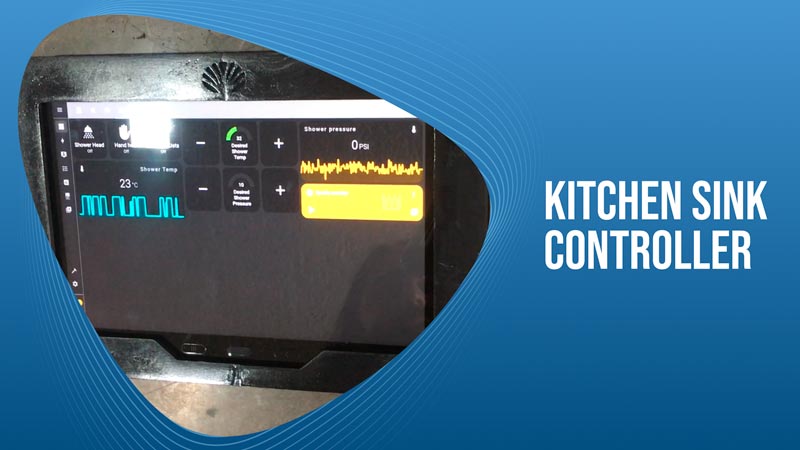 Less than 1 minute
Reading TIme:
Minutes
To fit the minimalistic look that we want to achieve in the SeaPod, we are going with a kitchen sink design that utilizes capacitive touch instead of the traditional knobs or handles that you will find in most homes. This presented a few different challenges that we had to overcome but luckily for us, Omer was able to come up with a great solution.
Here we have a demonstration from Omer to show us how it will work. He has this mock-up designed to work with a light instead of water, but the concept is the same. When the light comes on in his demo, that is when the water will flow when the sink is hooked up.
To turn the kitchen sink on, you simply have to tap the stainless steel faucet and the water will turn on. You can see that the light comes on when Omer taps the faucet, this represents the running water. This system will be controlled by a sink controller that communicates with a variable speed pump so that you can adjust the pressure similarly to how you can adjust the flow on a regular sink.
In the app, you will see that with each tap on the faucet, the rate of flow will increase. As the sink controller sees you tapping, it raises the speed of the pump to raise the pressure. This will allow you to conserve water when doing simple tasks while giving you the option to raise the pressure when you need it.
For temperature control, we have added a dial that can be turned to raise or lower the temperature. You can see the desired temperature changing when Omer turns the dial. When you are ready to turn the sink off, you simply tap and hold on the faucet and the water will stop. You can see this represented by the light turning off in Omer's demo.
This is a great way to enjoy all of the variable flow and temperature abilities of a normal sink while still keeping things sleek and smooth. Thanks to the fine engineering work from Omer, we will be able to deliver a seamless and user-friendly kitchen sink experience to everyone living in the SeaPod.
GET THE LATEST UPDATES
Want to find out the latest updates?
Submit your email and we will keep in touch.
GET THE LATEST UPDATES
Want to find out the latest updates?
Submit your email and we will keep in touch.