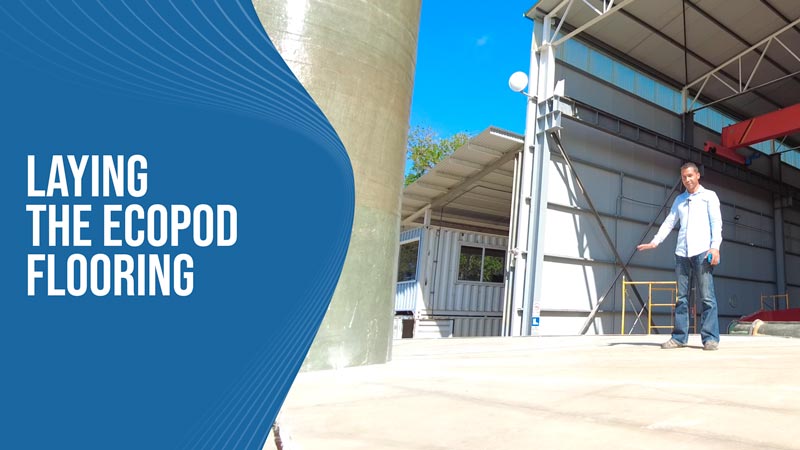 Less than 1 minute
Reading TIme:
Minutes
We are back with another factory update from Grant. This update is about the flooring of the EcoPod. We have been working to install these floor panels over about eight hours to see how the fitment looks and how everything will work together. So far the results have been good.
This was our second or third trial for this floor because we wanted to make sure that the structure would be solid and even all throughout and luckily, this structure is very solid and is a great sign going forward. We have a few more sections to install and then there will be a few layers of fiberglass on top of everything that will solidify the entire structure and make these sections into one solid floor.
We will be doing another trial after this one with different materials in the near future. This iteration uses a 2-inch thick plastic core and we want to test the same thing using balsa wood since it is much more environmentally friendly than plastic. We will be able to compare the results and decide what will be the best material to use going forward.
Above this roomy floor area will be the ceiling of the EcoPod which will have a minimum height of 2.7 meters(8.85 feet) so the home will feel very large on the inside. The roof section will follow after we remake it. Our first attempt at making the roof was not perfect due to some issues with the molds, but we will make the needed adjustments and try again.
The process of developing something totally new like the EcoPod or the SeaPod involves a ton of trial and error simply because no one has done it before and there is no playbook to go by. We look at mishaps as feedback instead of failure because every time something doesn't work out as we hoped, we are using it as an opportunity to learn how to make it better next time. We are determined to reach our goals so that is what we will do. Giving up isn't an option here so we will come back better and stronger in the future.
The path is never easy when you are trailblazing so we will adapt and overcome as we move forward. This process has taught us quite a bit already and there is plenty left to learn on this journey of bringing the most amazing floating homes to life so be sure to follow along as we keep moving forward!
GET THE LATEST UPDATES
Want to find out the latest updates?
Submit your email and we will keep in touch.
GET THE LATEST UPDATES
Want to find out the latest updates?
Submit your email and we will keep in touch.