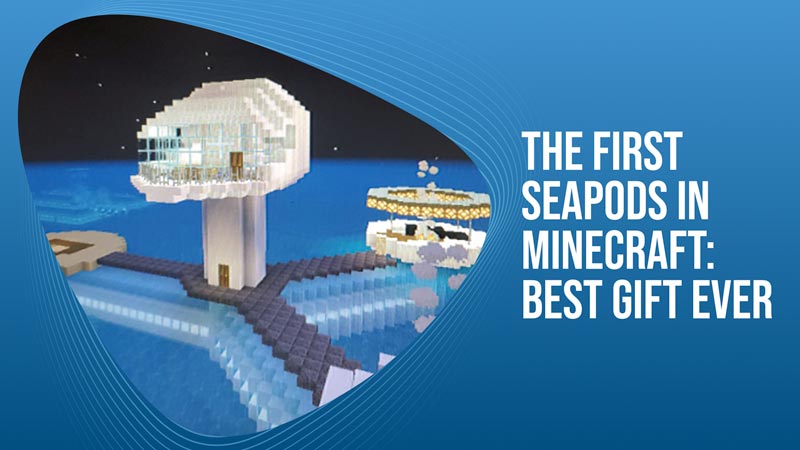 Less than 1 minute
Reading TIme:
Minutes
We recently celebrated Grant's 50th Birthday and for his birthday, he received a pretty cool gift from his nephew(once-removed), Jaydin. Jaydin spent quite a bit of time building the first SeaPod in Minecraft and surprised Grant with it for his birthday!
If you don't know, Minecraft is a virtual 3D sandbox game where players can build almost anything that they can imagine. It has different tools, different materials that you can mine and use to build, different terrains, and much more. It gives the player a virtually endless world where they can be creative and bring their wildest ideas to life.
So Jaydin spent some time building a SeaPod in the game. You can see that the world is based on a block structure and the players use the blocks to build whatever they want. You can see that the design of this virtual SeaPod is pretty complex and thorough.
Jaydin decided to go with a TriPod model for this design. He added a drone landing pad/tender dock for deliveries, a geothermal hot tub, and a solar-powered BBQ patio area. The three underwater hallways that he added offer great views of marine life, a shipwreck, and even some lost Mayan ruins. Going up into the actual Pod we have a two-story living space equipped with a kitchen, bedroom, and bathroom. The solar setup provides lights all night as you can see in the nighttime views of the SeaPod.
This is a really thoughtful gift from a really cool kid. Not only did this take hours to build, but it takes patience and a vision of the finished product. We love to see that Jaydin is exploring the reaches of his imagination and using things like Minecraft to bring his ideas to life. This is a great way for young people to get started with making their crazy ideas come to life and we hope that the SeaPod can inspire everyone to reach for the stars. Sometimes, a crazy idea can turn into a feasible project, which could turn into a tangible product as we can see with the SeaPod that started as a crazy idea and is now in full production mode!
We want to say a big thank you to Jaydin for this awesome gift. We hope you keep up the great work and never stop designing and creating!
GET THE LATEST UPDATES
Want to find out the latest updates?
Submit your email and we will keep in touch.
GET THE LATEST UPDATES
Want to find out the latest updates?
Submit your email and we will keep in touch.