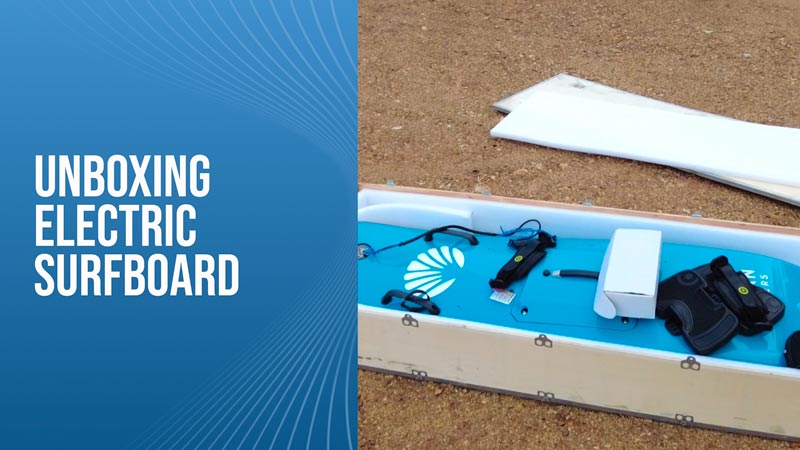 Less than 1 minute
Reading TIme:
Minutes
What's the point of living on the water if you don't take the time to enjoy it? Especially in a floating home like the SeaPod, you will have easy access to the sea for things like paddleboarding, kayaking, or swimming. For those who want to add a little bit of speed to their water activities, we have a few ideas that we think will be a great way to enjoy life on the water.
We recently took delivery of a few new toys and Grant is here to unbox one of them for us. The first box that we are cracking open contains a battery-powered electric surfboard. This rechargeable surfboard has a small propulsion system that will allow you to glide across the top of the water with ease.
You will mount the footpads and slide your feet into them so that they will stay securely on the board. The remote control is connected to a handle that goes down to the nose of the board. This handle will give you something to hang on to and also help make balancing and keeping the nose of the board up a little easier. There is a small key that attaches to your wrist that will turn off the board if you fall off.
These electric surfboards will be a great way to enjoy an evening chasing the sunset across the water or scratching that itch for speed for those who like a little more adrenaline. Additionally, these could be used for transportation if you want to take a quick trip to some nearby islands or another SeaPod. No matter the use, we are sure that you will have a big smile on your face as you cruise across the water on these surfboards. In the meantime, we are going to charge them up and get them on the water, ya know… just to make sure they work.
GET THE LATEST UPDATES
Want to find out the latest updates?
Submit your email and we will keep in touch.