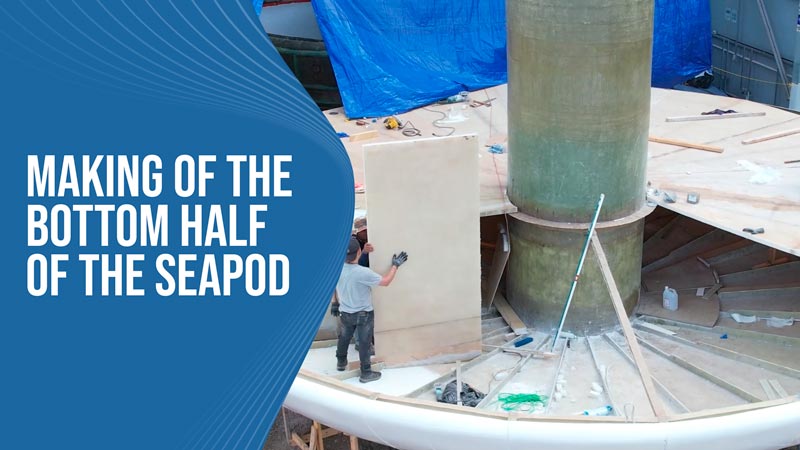 Less than 1 minute
Reading TIme:
Minutes
We are starting to make some real progress on the bottom half of the SeaPod outer shell. Grant is back at the factory to talk us through the plans for the process and what we will be working on for the next few weeks.
He is standing at the side of the molds for the bottom bowl-like structure of the SeaPod. We made these molds in sections and then bolted the pieces together to make one single mold. When working with molds like this we are working from the outside to the inside, so the first layers that we apply will end up being the outer layer of the SeaPod.
So we start with a layer of gel coat that will give the outer surface a smooth and durable finish. Once the layer of gel coat is finished drying, we can start applying the layers of fiberglass. The fiberglass comes as fabric sheets that are laid down and then covered in a resin that when dry creates a super strong and rigid material. Near the center, we will apply 12 layers of fiberglass and the areas near the edges will have 10 layers.
This is a time-consuming process since we have to let each layer properly cure and with the size of this mold, it should take us around two weeks to get everything done. Luckily we have a great team of guys who have the patience and attention to detail that we need to pull this off. There will be more updates about this process as we move along so we hope that you will stay tuned to the blog to read those. We are hard at work here in Panama and we will be bringing some very exciting updates very soon!
GET THE LATEST UPDATES
Want to find out the latest updates?
Submit your email and we will keep in touch.