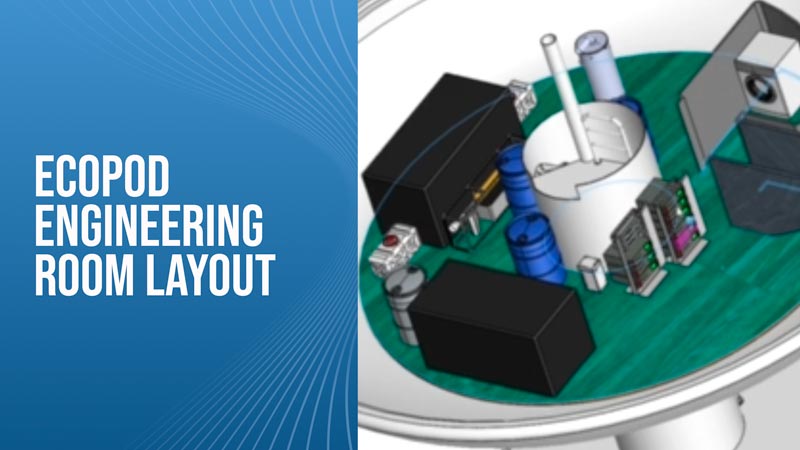 Less than 1 minute
Reading TIme:
Minutes
We are back with our Omer for an overview of the layout of the engineering room in the basement of the EcoPod. Omer designed this layout to fit all of the equipment that we will need to run the EcoPod. The ceiling in this basement is only 1.1 meters tall so everything had to be designed with space-saving efficiency in mind.
Starting with the stairs that lead to the basement, you will see that they go behind the bed. The bed is elevated like a normal bed but the space below it is hollow so that the small room that we have for things like the laundry machine or the propane tanks is tall enough for you to work in.
Moving past the laundry room, we go into the main engineering room area. This area houses all of the critical equipment that we need to run the house. The first thing that we come to is the batteries which can store 45 kilowatts of power to supply electricity to the home and the network switches that will connect all of the smart devices to the home automation server.
We also have all of the tanks for hot water, saltwater, gray water, black water, and clean water. You will find the desalination system and its membrane filter are in this room. The incinerator for the incinerator toilet is also located here. We have all of the wiring for both data and electricity, all of the plumbing, pumps, and tanks.
Going outside we can see the front door with its polycarbonate window. The door is mounted using commercial hardware so it will be durable enough to survive a lifetime in the harsh salty environment that just loves to eat metal.
The layout of this room took quite a bit of effort, planning, and brainpower so we are excited to share it with you so that you can get a better idea of how things will look "under the hood" of the EcoPod.
GET THE LATEST UPDATES
Want to find out the latest updates?
Submit your email and we will keep in touch.