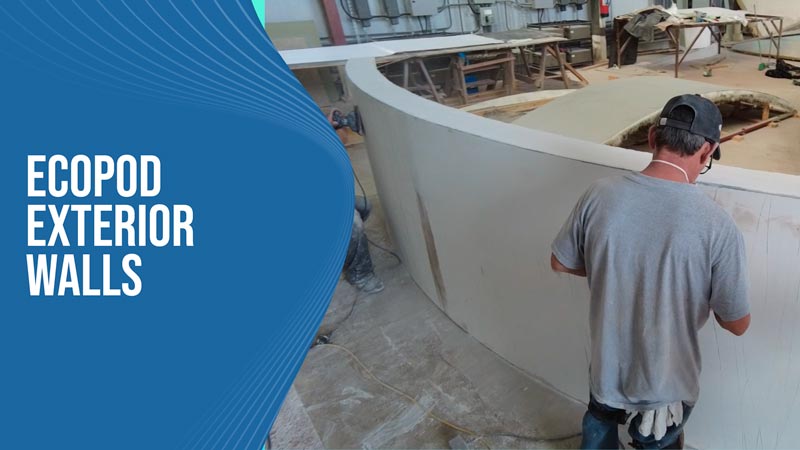 Less than 1 minute
Reading TIme:
Minutes
Now that the bottom section and the roof for the EcoPod are coming along nicely, it's time for us to get to work on the interior and exterior walls of the home. Since the home is built to be a circle, the walls have a constant curvature that allows us to build identical sections and then put them together to fit where they go. These walls will be made of fiberglass with a layer of insulation sandwiched between them.
Grant is at the factory with a look at two of the options that we have to build these walls. We are building two different styles of molds so that we can put them head-to-head to determine which one will give us better results in regards to strength, consistency, speed, and efficiency.
The first mold that we take a look at is actually still being built so we are looking at the plug which is what we will use to shape the actual production mold. This looks like a big slab and will be used to produce the interior and exterior walls at the same time. The walls of the EcoPod have a larger section at the bottom and a smaller section at the top with a large window between them. Instead of making one large piece and cutting out the windows, we will make a single section that is the size of the two wall sections combined. We will simply cut the smaller section off and we will be left with the two sections that we need and virtually no wasted material.
The other mold that you can see is a little bit smaller and can produce only one interior or exterior wall at a time. You can read more about this mold here. It is basically a simple mold that has the exact curvature that we need and we can lay the layers of fiberglass on top of it as we build the sections. This mold gives us the curvature that we need and we can then build whatever size wall we want.
We will be doing some testing on both of these molds so that we will know which one suits our needs better as we move the EcoPod into production. We will build a section to the exact specs of the final pieces that we need using each mold and directly compare them to see which process will be the best option for us. This is an exciting time for us as we work towards getting the EcoPod in the water so be sure to check back for more updates and subscribe to our monthly newsletter if you would like to do so.
GET THE LATEST UPDATES
Want to find out the latest updates?
Submit your email and we will keep in touch.
GET THE LATEST UPDATES
Want to find out the latest updates?
Submit your email and we will keep in touch.