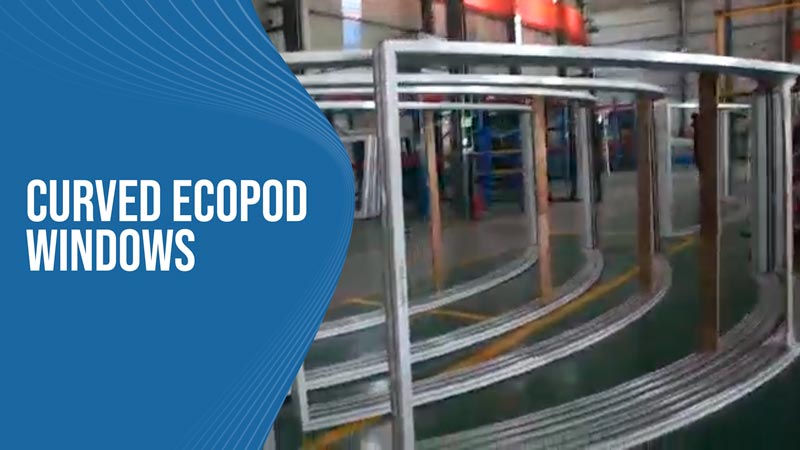 Less than 1 minute
Reading TIme:
Minutes
Here we have a quick update from the production facility that is building the windows for the EcoPod. One of the coolest things about the EcoPod is that it has windows going around nearly the entire home. Complemented by the large flat window on the opposite side, the home is built in a circle and these curved windows will wrap around about 50% of the house providing beautiful views in every direction.
Providing ample windows was very important in the design of the EcoPod. Small homes and apartments can easily feel stuffy and cramped and can make you feel like you are living in a box if there are not enough windows. We definitely did not want to have that sensation so we simply, or not so simply, decided to make the exterior walls into sliding windows.
Glass doesn't like to bend so we were somewhat limited in how far we could push this design. We determined that the best compromise was to use several individual sliding curved window panes to go around the exterior of the home. This is easier, safe, and more affordable than trying to use huge wide-spanning single panes and also gives you the ability to open the windows on both sides of the home and really have an open-air home floating just a few meters above the sea. Simplicity is part of the essence of the EcoPod so these windows work perfectly with the design of the home.
A reflective tint will provide privacy in your living space and also help repel heat from the sun to help keep the home cool. You can see in the video below that the window frames are coming along nicely and we hope to get the window panes installed soon. We are very excited about these windows and we know they will change the way you look at boring old windows forever.
GET THE LATEST UPDATES
Want to find out the latest updates?
Submit your email and we will keep in touch.