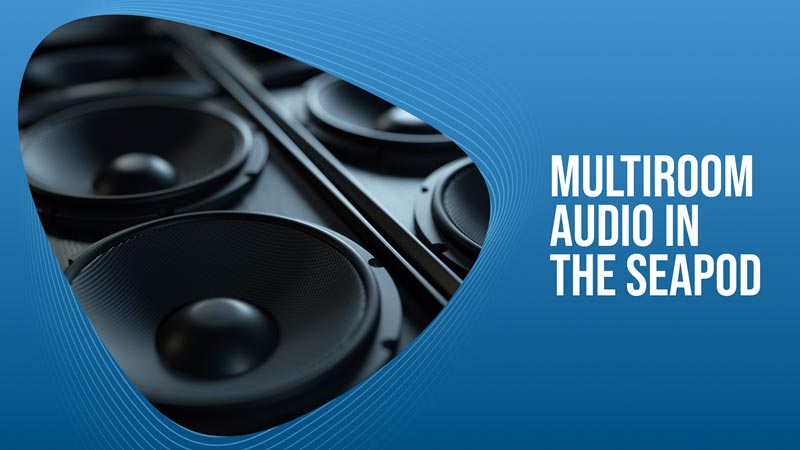 Less than 1 minute
Reading TIme:
Minutes
High-quality audio is a very big goal for us here at Ocean Builders, but it doesn't stop at being high-quality, it has to be functional as well. Having audio that perfectly syncs to speakers in every room of the SeaPod is crucial, no one wants to hear lag and latency between rooms.
In the SeaPod, you will be able to listen to music in one room and have it seamlessly play in any other room that you want. All of the rooms will have the capability, so you simply have to select which rooms you want to play the music in and you will have music there.
In order to achieve this, we have developed our own Smart Amplifier. This device acts as a wireless receiver for each individual set of speakers throughout the home. By developing our own Smart Amplifier, we can ensure that each room will be perfectly synchronized without being physically connected. Each room will have speakers mounted in the ceiling so there is no need for large, space-wasting floor or desk speakers.
In addition to having audio capabilities inside the home, this feature can also be used for outdoor audio in your Wazebo(our name for a gazebo just above the water), or for your jacuzzi area if you have one. The music won't have to stop when you go outside.
Our system will allow you to play any music or playlists that you want. Also, any online radio stations will work the same way or you could even listen to an audiobook as you move throughout your house. You can play some soothing background noise as you fall asleep or listen to something energetic to wake you up in the morning.
Whether you are cooking dinner, taking a shower, relaxing on the couch, cleaning, enjoying your jacuzzi, or just want to hear some music while you work, our Smart Amplifier will provide seamless audio either throughout your entire SeaPod or to any specific areas that you choose.
GET THE LATEST UPDATES
Want to find out the latest updates?
Submit your email and we will keep in touch.
GET THE LATEST UPDATES
Want to find out the latest updates?
Submit your email and we will keep in touch.