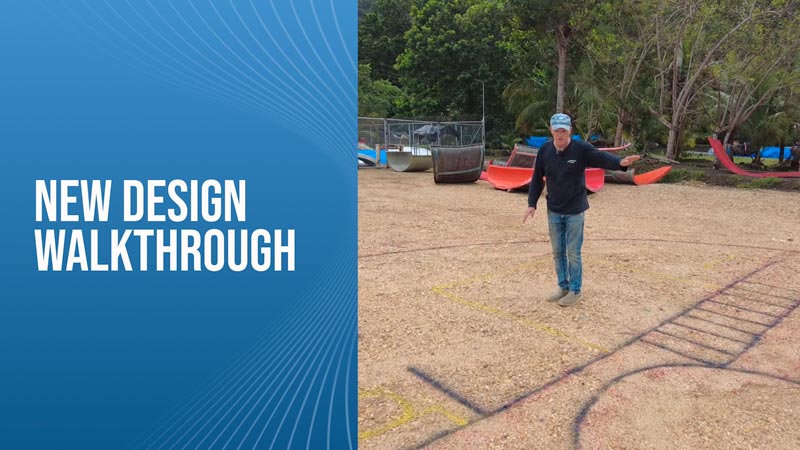 Less than 1 minute
Reading TIme:
Minutes
Here we have Craig checking in from the factory to show us the true-to-size layout of the SeaPod. We know that it can be confusing and unclear when we only have our rendering photos and square footage to explain the size so Craig is here to help give everyone a sense of the actual layout of the SeaPod.
Using spray paint, we have drawn out the basic floorplan of the SeaPod as if you were looking at it from a birds-eye view. All of the dimensions are correct so that you can get a better feel for how much space there will actually be.
Starting from the climb up the spiral staircase inside of the spar, we step out into what will be the living room which is located on the main floor of the SeaPod. This is where one of the big panoramic windows will be as well as the outside deck area. To the left will be the kitchen and to the right will be the sofa and dining room.
Continuing past the sofa and lounge area, we can go around the wall and into the bedroom. Standing in the bedroom, we have the bathroom to the right and the king-sized bed and nightstand to the left. There will be more storage compartments at the top of the staircase that leads to the downstairs storage area.
This lower storage area will have the washing machine and dryer as well as a refrigerator and the rest of the level will be dedicated to storage. Coming back up the stairs and through the bedroom, we can walk past the large panoramic windows and back into the living room area.
Overall, the SeaPod will have more than 800 ft² of living space as well as 400 ft² of storage space. The views from the nearly 600 ft² of windows will allow you to appreciate the surrounding environment and the outside deck areas provide a great spot for relaxation on a nice day.
There may be some more small tweaks in the design of the layout but overall this will be pretty close to the final product. We hope that this helps you visualize the size and layout of the SeaPod.
GET THE LATEST UPDATES
Want to find out the latest updates?
Submit your email and we will keep in touch.
GET THE LATEST UPDATES
Want to find out the latest updates?
Submit your email and we will keep in touch.