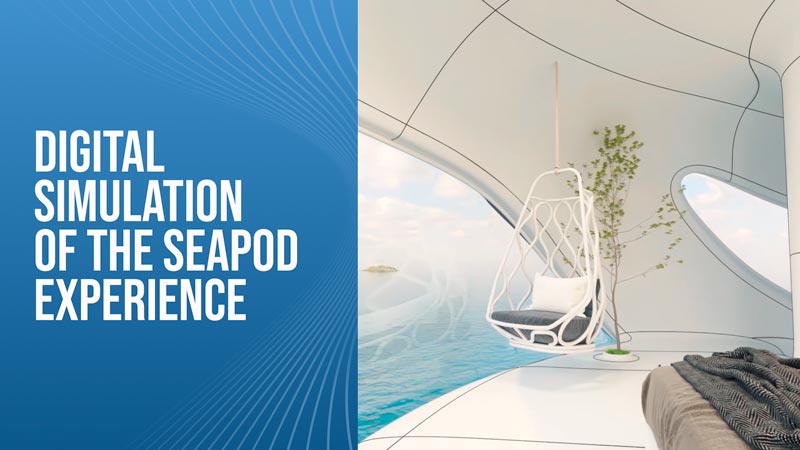 Less than 1 minute
Reading TIme:
Minutes
This video is a digital rendering that shows what it would like to be inside of the SeaPod. While we have made prototypes to perform tests, we haven't built something to show the actual design. This video serves that purpose.
Our original prototype was built as an engineering prototype. This means that comfort, aesthetics, and the experience of living in a SeaPod were not the goals of this. We built that prototype to test our theory that the SeaPod was possible. We built it with function and experimental testing over everything else.
Our second prototype was a small-scale platform to test the concept of our floating platform idea. Again, this was very exciting for us but it was built with function and testing in mind so it isn't very visually exciting for everyone else.
While these tests were very exciting for us, they don't have the eye-grabbing excitement factor that the actual SeaPod design has. So we want to share our excitement for the SeaPod with everyone! This video shows you what it would be like to be inside of an actual SeaPod.
As we follow the flight of the butterfly from land to the SeaPod, we get some great views of what the exterior will look like. Totally unique in design, the SeaPod looks like something out of the future, and we hope that it will be a huge part of the future of life on Earth.
Looking through the massive windows, we can see the kitchen, the bedroom, and the living room. Each on their own level, each with a breath-taking view of the sea. Moving through the levels of the SeaPod, we can get a better look at the different rooms within the home.
Continuing on, the journey takes us into a potential underwater room that adds even more square footage to the home. We see another bed/lounge area, a small garden, and some beautiful views of the wonderful life that is found under the sea.
As you can see, being in the ocean does not mean that a garden and small plants can't grow in your SeaPod. There is a difference between just being alive and truly living….. In the SeaPod, we want to provide you with an environment where you can truly live an extraordinary life.
GET THE LATEST UPDATES
Want to find out the latest updates?
Submit your email and we will keep in touch.
GET THE LATEST UPDATES
Want to find out the latest updates?
Submit your email and we will keep in touch.