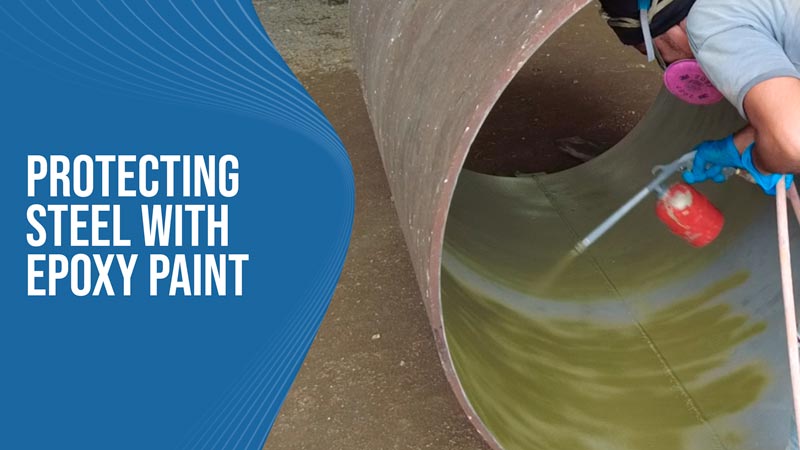 Less than 1 minute
Reading TIme:
Minutes
The steel that we are using in the construction of the spars must be protected from corrosion. The start of this process is sandblasting the surface to remove any surface rust or any other possible contaminants. Sandblasting will give us a fresh and clean layer of steel for us to apply our protectant so that we can be sure to get proper adhesion to the steel surface.
Once the sandblasting is complete, the steel that we are using is left with a very light silver/gray color which can be seen in the video below. This is the raw surface of the steel, but the problem is that it will begin to have surface rust very quickly. It is important that we are able to apply the surface protectant directly after sandblasting so that new rust does not form.
The video shows the use of a spray paint gun which is what we will use to apply the protectant. We are using an epoxy paint which will seal the steel and protect it. The epoxy paint that we are using leaves the surface with a yellowish color, so on the outside, we will paint a white topcoat on top of the epoxy paint for aesthetics. This won't be a problem on the inside as it won't be seen.
The steel tubes that you see in the video here will be sandblasted on the outside to clean the surface and the same epoxy paint will be sprayed on the outside to seal it before the white topcoat.
Due to the corrosive nature of saltwater, and the fact that the SeaPod will live its life in saltwater, protection against corrosion is an extremely important thing to consider. The humidity can give this steel surface rust in a very short period of time, being in constant contact with saltwater will cause deeper construction that will eventually affect the structural strength of the steel if not prevented. Thus, we are working very hard to make sure that the SeaPod is able to withstand the harsh environment in which it will spend its life.
GET THE LATEST UPDATES
Want to find out the latest updates?
Submit your email and we will keep in touch.
GET THE LATEST UPDATES
Want to find out the latest updates?
Submit your email and we will keep in touch.