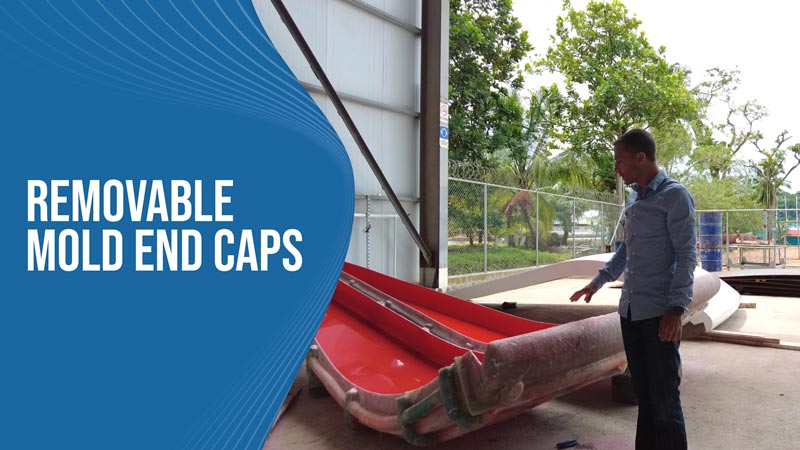 Less than 1 minute
Reading TIme:
Minutes
As we start to complete the process of making our molds, we can move into making the actual panels of the SeaPod. This video focuses on the molds for the subfloor sections which will support the floors inside the home. You can see two of our subfloor molds which after having some slight deformations, were able to be reworked and we now have them as close to perfect as we can get.
One of the problems, or difficulties, that we encountered was that due to the curved ends, we could not easily remove the sections from the mold. The ends curve down and around which hold everything very snuggly and would require a lot of force when removing the sections. Since we are working with fiberglass, we definitely don't want to damage the products when removing them from the mold.
The solution that we arrived at is to make removable end caps on the molds. These caps allow us to remove about 10 inches of the curved ends which were holding the sections in place so that we can remove them from the mold easier. We use bolts to connect them to the mold during production and we simply remove the bolts when everything is cured.
By using this method, we can keep the same shape while making the molds easier to work with and reducing the risk of damaging the product. Of course, no business wants to waste material, but we are very dedicated to being efficient and eco-friendly so the less waste the better for everyone involved.
We have made two sections so far and the results have been good. We will be making two more subfloor sections in the next few days and if everything goes well, we will be able to start producing these parts of the SeaPod. For this particular part, we will need 26 sections per SeaPod so we will put these molds to work very soon to get started on that.
We are constantly learning new ways to improve our process so that when we are ready to scale our production, everything will be in order. Innovating the small things like these removable end caps will help us perfect the process and allow us to make more SeaPods at a faster rate.
GET THE LATEST UPDATES
Want to find out the latest updates?
Submit your email and we will keep in touch.
GET THE LATEST UPDATES
Want to find out the latest updates?
Submit your email and we will keep in touch.