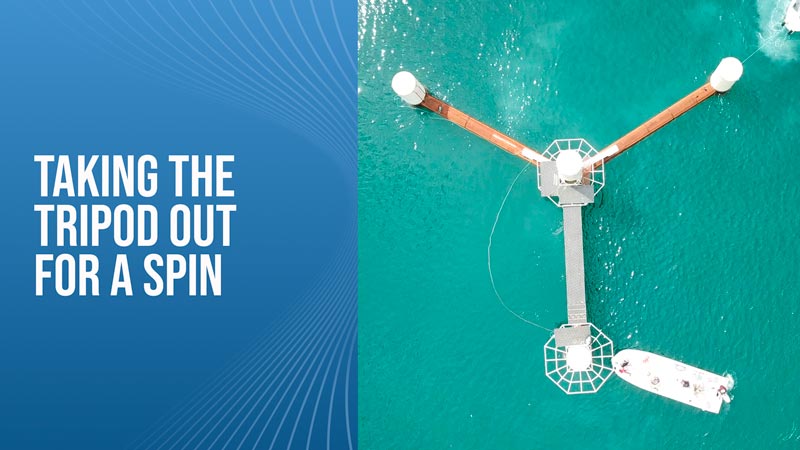 Less than 1 minute
Reading TIme:
Minutes
Here we have some footage from our home marina here in Panama. We needed to move one of our TriPod bases to a different part of the marina so we used that as a chance to take it for a spin and see what it would be like in the open water.
In the footage, our CEO Grant is walking around on the platform as it is floating in the open water. He was excited and delighted with the experience that he has on the platform. He found it to be very stable and easy to walk on. This is important because the SeaPod will be a floating home and we want it to be as stable as possible.
There was no noticeable movement so he had no problems with walking around or going up the steps while they were out on the water. He was able to enjoy the platform that will house the Wazebo which was perfect.
He also climbed up the spiral staircase that is located in the center spar. Once the SeaPod is completed, this will be how you enter the home. Of course, we don't have the Pod finished yet but he was able to stick his head out of the top and enjoy the breathtaking views.
The views that he got to see were another thing that left a strong impression on him. The experience of being low enough to the water to feel connected to it but high enough above the water to get great views of the rolling hills and surrounding islands is exactly what we were looking for.
This is the area that we are planning to have the first SeaPods so getting to experience what the view will be like was very exciting. The lush greens from the land and the gorgeous blues from the ocean really set a beautiful scene that will be an amazing backdrop for life on the water.
The feeling of being out on the water on the platform is just a glimpse into the full SeaPod experience. We are confident that once people can come out and experience this for themselves then it will be difficult for them to go back to their normal homes on land with limited windows, views, and excitement.
Experiencing life in the SeaPod will truly be mindblowing to most people and we are sure that everyone working on this project here at Ocean Builders is planting a seed that will grow into something that will change the way that we look at housing forever.
GET THE LATEST UPDATES
Want to find out the latest updates?
Submit your email and we will keep in touch.
GET THE LATEST UPDATES
Want to find out the latest updates?
Submit your email and we will keep in touch.