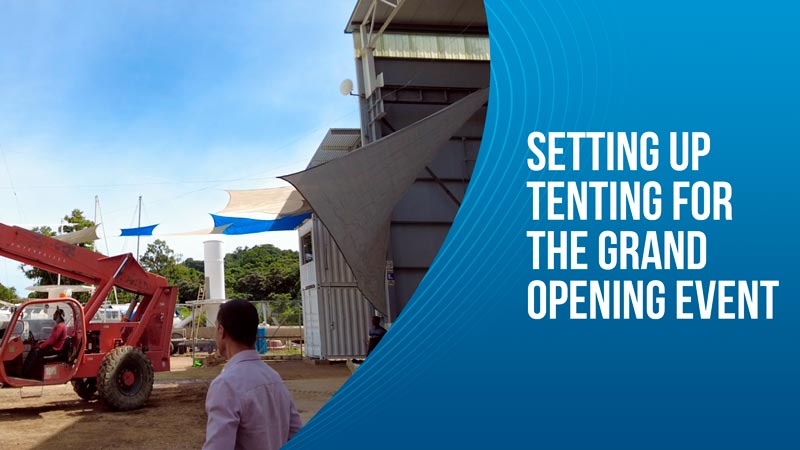 Less than 1 minute
Reading TIme:
Minutes
The big day is VERY quickly approaching. We have about four or five days left until the event and it is crunch time here at the factory. We have brought in some reinforcements from the local community to help get everything ready for the launch, it really is all hands on deck!
The factory is very much a utilitarian place that is designed to build SeaPods, so we wanted to spruce things up a little bit before the event. We are adding lots of blue and white tenting material to provide some overhead shade for our guests. We have cleared out the factory floor, moved the SeaPod Flagship outside, and moved the equipment and materials out of the way so that there is plenty of open space for everyone to enjoy during the event.
Inside the factory, we will have different stations and demonstrations where everyone can get acquainted with some of our technology like the 3D printed coral, the trash collecting drone, and more. But the fun won't stay in the factory, we have some fun activities planned once we are down at the water with the SeaPod!
We will have some water sports for you to enjoy. We will have a few stand-up paddle boards, four single-person kayaks, and four double-person kayaks available for anyone who wants to take a quick paddle around the marina. The single-person kayaks have a peddle system that has a propeller underneath the boat that is powered by your feet instead of a normal kayak paddle so you can be hands-free!
We are almost there! The woodworking team is finishing up the final pieces of cabinetry which will be installed and fitted inside the Pod in the coming days. The vast majority of the work has been behind the scenes and only the last 10% is what the people will see at the launch. Now that we have put in the bulk of the work, it's time to finish up that final 10% before the big show!
GET THE LATEST UPDATES
Want to find out the latest updates?
Submit your email and we will keep in touch.
GET THE LATEST UPDATES
Want to find out the latest updates?
Submit your email and we will keep in touch.