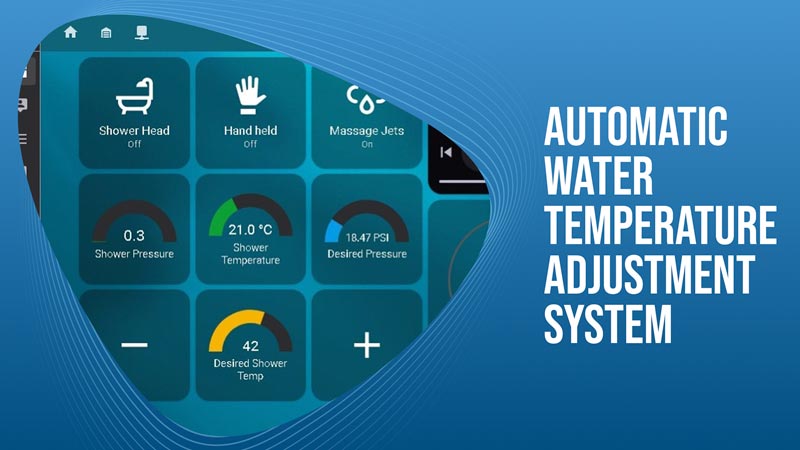 Less than 1 minute
Reading TIme:
Minutes
The shower in the SeaPod will be controlled either by voice or by a touch screen using our home automation app. The days of fidgeting with shower knobs to get the perfect temperature are over. With our system, you will get the perfect temperature every time.
The shower temperature will be set by degrees in the app. You will simply tell it what temperature you would like the water to be and it will automatically adjust the temperature to give you exactly what you asked for. This can be done with our app and we will also have the option to use "user profiles" that can save your personal shower preferences and automatically apply the settings that you like when you take a shower.
The way that this system controls the water temperature is very similar to a traditional two-knob sink or shower. There is one valve for hot water and one valve for cold water that you adjust until you find the right balance. Our system does the same thing by manipulating the two valves, but our system is fully automated.
In the video below we have Omer demonstrating how the valves will work. When you want the water to be warmer, then it will close the cold valve and open the hot valve until the mixture of hot and cold water gives you the right temperature. Of course, it works exactly the opposite if you want the water to be cooler.
In the photos, you can see an example of what the control interface of the app will look like. It is a simple design that gives you a bit of feedback about the water system and gives you easy control of things like the water temperature and pressure as well as turning on or off the showerhead, handheld, or massage jets.
You can also see a mock-up of the way that the system will be piped. You have a valve on the water supply for both hot and cold water. The water will move through the valves and mix at the point where the pipes meet. Once the pipes meet, the water will continue to mix together as it moves to the showerheads or the massage jets.
Everything for this system is operated with the brain computer and can be controlled through the interface of the app that we are designing. We have put comfort and convenience at the forefront of the design of the shower and we are sure that you won't mind leaving those finicky shower knobs in the past.
GET THE LATEST UPDATES
Want to find out the latest updates?
Submit your email and we will keep in touch.
GET THE LATEST UPDATES
Want to find out the latest updates?
Submit your email and we will keep in touch.