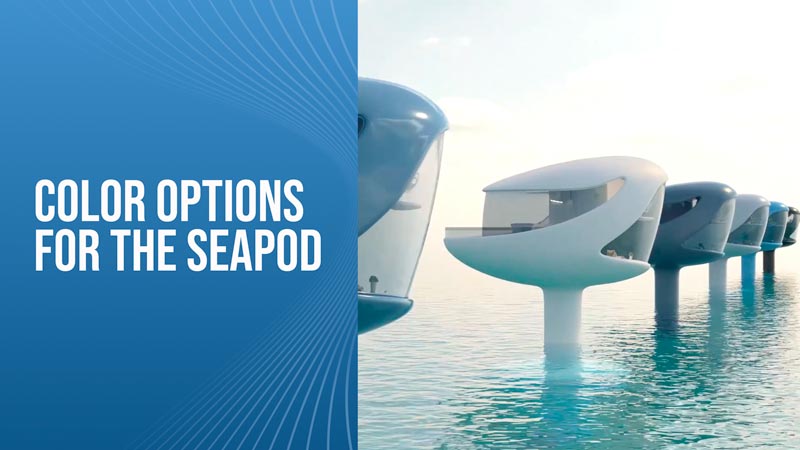 Less than 1 minute
Reading TIme:
Minutes
When it comes to color options for the SeaPod, we spent a lot of time deciding what the best options would be and creating them in a rendered video to show the different colors. As you can see in the video, we were considering white, shades of blues, grays, and greens.
After some careful consideration, we have decided to only offer white as an exterior color at this time. There are various reasons for this decision but most of them revolve around keeping the SeaPod as energy-efficient as possible.
Since the SeaPod will be in the middle of the ocean, there will be absolutely no natural shade from trees or anything else. This means that the SeaPod will constantly be under the bright light of the sun, even when it is cloudy. While shade from the clouds makes the sun more bearable for us, it doesn't necessarily cool things like the SeaPod in the same way. Also, clouds are not a reliable source of shade.
So with the SeaPod being constantly in direct sunlight, the exterior color will play a huge role in keeping temperatures in check. A white exterior will reflect some of the rays from the sun where darker colors will absorb them. The reflection of these rays means that a white SeaPod will naturally be cooler than a darker-colored option in the same conditions.
The ability to maximize energy conservation is a very important goal for us here at Ocean Builders. Since the SeaPod will be a home that is not connected to the local power grid, it will have to be as energy-efficient as possible to ensure that you always have enough electricity to live a normal life.
This ties back into keeping the SeaPod at a cooler temperature. Air conditioning is one of the most energy-hungry resources that most homes have. So having a darker colored SeaPod will mean that it will require more A/C to maintain a comfortable temperature. In turn, this will use more electricity than a SeaPod with a white exterior.
Another one of the goals of the Ocean Builders company is to be as environmentally friendly as possible. Most power grids in the world use methods such as burning coal, oil, natural gas, or other fossil fuels to generate electricity. We want to cut down on the carbon footprint of cooling homes, both on-grid and off-grid, as much as possible.
This situation led us to a choice where we had to decide between the designs that we wanted to offer and the practical realities that we have to address. We decided to pick efficiency and energy conservation instead of aesthetics… luckily for everyone, the white SeaPod looks just as good as all of the other options, so we aren't missing out on the beauty, just a little bit of variety.
GET THE LATEST UPDATES
Want to find out the latest updates?
Submit your email and we will keep in touch.
GET THE LATEST UPDATES
Want to find out the latest updates?
Submit your email and we will keep in touch.