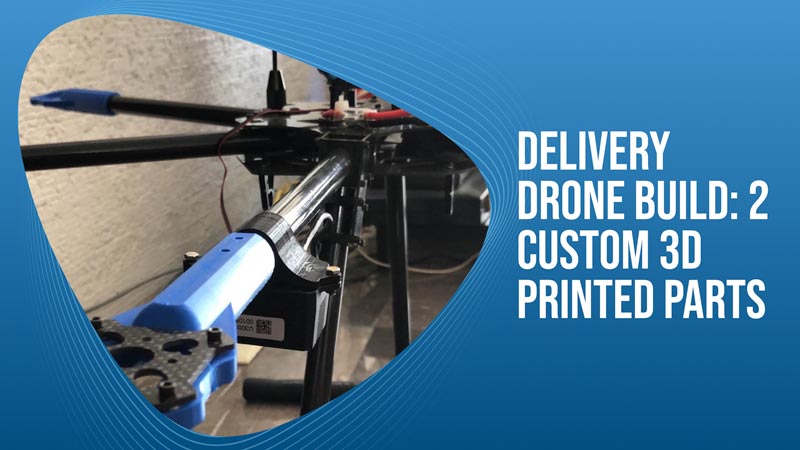 Less than 1 minute
Reading TIme:
Minutes
Here are some progress pictures of the construction of our custom-built delivery drone. We started with the main airframe and now we are moving into getting everything assembled and wired together. We are utilizing our 3D printing technology to make our own custom parts for the drone so that they fit the exact specifications that we need.
In the photos below, most of the blue parts were 3D printed, there are a few other parts that were printed in black, but most of them will be blue. For example, the most prominent pieces that you see are at the end of the arms. These arms are where the motor and propeller will be mounted. We were able to print the connecting piece that will attach to the carbon fiber arm and then give us a place to attach the motor mount. The motors and propellers will then be mounted there and that will give us the strength necessary to withstand the forces of flying.
We also got started on doing the electrical wiring. Drones have quite a bit of technology and all of it needs to communicate and function as one. For example, the motors need to communicate with the flight controller and also need to receive power from the batteries. All of this communication will be done through wires to all six motors.
This is the first version of the assembled drone. There are plenty of refinements still to do but this first one will give us a benchmark that we can work from. We will do testing to see how the antenna works, make sure the batteries are working, and also test the lidar sensor which is what will allow the drone to "see" its surroundings and determine how far away from objects it is.
This project is coming along nicely and with testing, we will find ways to improve the entire system. Once we are comfortable with the way that it flies, we can start implementing the autonomous flight software so that it can fly without the need for a pilot. Step by step we are getting there and making great progress along the way.
GET THE LATEST UPDATES
Want to find out the latest updates?
Submit your email and we will keep in touch.
GET THE LATEST UPDATES
Want to find out the latest updates?
Submit your email and we will keep in touch.