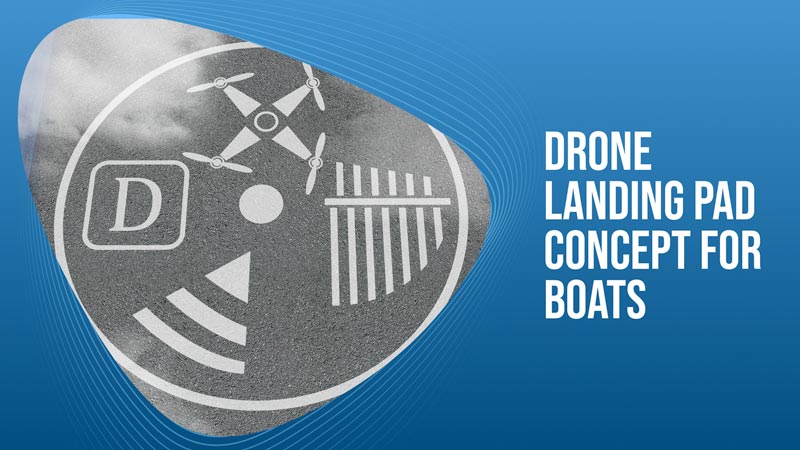 Less than 1 minute
Reading TIme:
Minutes
We are designing a drone delivery system that will be able to fly deliveries like medicine, a pizza, some wine or beer, a small package, laundry, or anything else that it can carry. While we wanted to have this service available on the SeaPod, we think that it could be very useful even for people who aren't living in a SeaPod. Since our homes will usually be deployed near marinas, there are plenty of boats in the area that could benefit from the convenience of drone deliveries.
The problem that we will face is that most boats don't have a safe place for a drone to land or drop a delivery. If we want to offer this service to other people then we will need a solution to that. Luckily, we have designed our non-permanent solution and Grant is here with some beautiful artwork to show you how it will work.
Basically, this will be a small landing pad that clamps to the side of a boat and hangs over the edge. Since the landing pad will stick out around two meters and need to support the weight of the drone, we will have a support arm that will stretch from the edge of the platform back to the side of the boat creating a structurally sound triangle.
The support arm will have a rubber foot for grip and to protect the side of the boat. We will also have the option to have reusable Gecko Tape to help give it an even better footing to support the weight. All of the arms will be adjustable so that you can make it fit perfectly with the spot that you want to use the landing pad.
The landing tray itself will be where the drone lands and leaves the package. It will be a circle and about one meter in diameter that can be pulled in to stow or pushed out for use. In the middle of the circle, we will have either a QR code or an infrared tag which would allow the drone to land safely and more precisely at night or in poor visibility. The tray will have walls around the edge that are about 2" or 3" tall so that if there is any wind or boat movement, your delivery won't slide off the edge.
The tray itself will use a grate design that allows water and wind to easily pass through. We don't want water from rain or splashes to pool up on the surface so the grate will allow it to drain through. We want the air to pass through because it will allow for a more stable and less turbulent landing as opposed to a solid landing pad.
We are going to build a test unit so that we can do some trials and see how everything works. We will be working on that in the coming weeks so be sure to check back for any updates about the progress of this project.
GET THE LATEST UPDATES
Want to find out the latest updates?
Submit your email and we will keep in touch.
GET THE LATEST UPDATES
Want to find out the latest updates?
Submit your email and we will keep in touch.