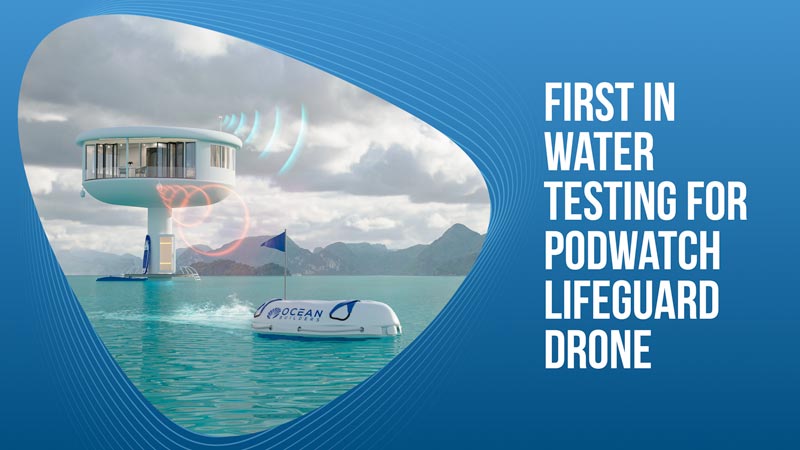 Less than 1 minute
Reading TIme:
Minutes
We want to create a refreshing, relaxing, and healthy lifestyle on the water. Unfortunately, that comes with some inherent risks. Having your "front yard" be water is naturally going to have certain risks that homes on land don't face. With as much time as we hope everyone will spend enjoying the water, we need to make sure that it is safe.
Even healthy and skilled swimmers can unexpectedly drown while swimming, no one is fully immune to it. In a home at sea where usually only one or two people will live, if someone were to drown then it is possible that no one would be there to help. That's where the PodWatch Lifeguard Drone and Lifeguard AI come into play.
This technology will help keep a watchful eye on the water to make sure that if the need arises, help will be on its way to you in the water. There are several different ways in which this could work.
The first is with a wristband that has an SOS button. When you push the button, then a surface drone will automatically navigate to the location of the wristband and give you something to grab onto while it brings you back to the Pod.
Another option is to have an AI camera that is watching the area and will deploy the drone at the sight of someone struggling in the water. This would be automatic and not require the pushing of a button on the wristband, but the wristband could still be used to help direct the drone to you.
Additionally, someone could trigger this lifeguard drone from the house. If someone sees that you are struggling in the water, they can activate the drone to get help to you as quickly as possible.
The first iteration of this drone has finally done some in-water testing. This model is not automated yet but is operated with joysticks like a regular remote-controlled vehicle. It also has a return-to-home feature that will automatically bring the boat back to the operator on land.
We feel that this technology is crucial to keeping everyone safe while you enjoy the water that will be your new "front yard" and we will be prepared and ready for a situation that we hope will never happen.
GET THE LATEST UPDATES
Want to find out the latest updates?
Submit your email and we will keep in touch.
GET THE LATEST UPDATES
Want to find out the latest updates?
Submit your email and we will keep in touch.