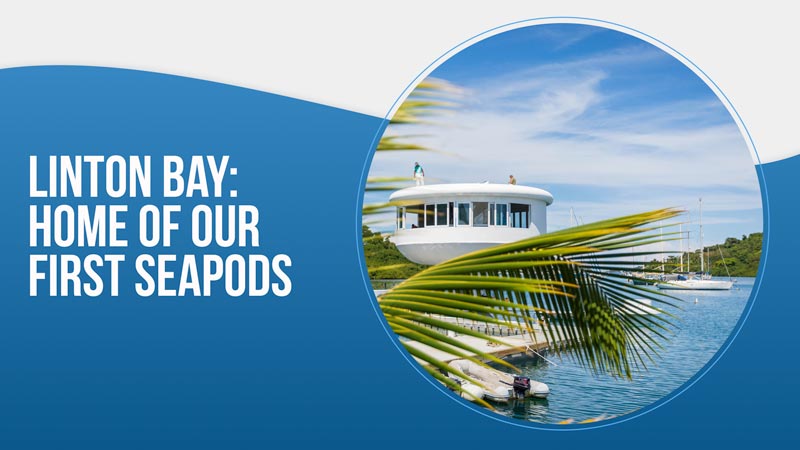 Less than 1 minute
Reading TIme:
Minutes
Linton Bay's combination of geographic advantages, favorable climate, strong marine infrastructure, accommodating regulations and ecotourism potential made it a natural fit for Ocean Builders' pioneering ventures. This is where our factory is actively producing SeaPod prototypes, preparing for a global expansion into sustainable oceanfront living.
While it may not be as well-known as some of the larger tourist destinations in Panama, it has its own unique charm and attractions that make it special to those who visit. It's a great place to relax, unwind, and escape the hustle and bustle of city life.
The area is known for its stunning natural beauty. It is surrounded by lush jungle offering picturesque views of the Caribbean Sea. The area is rich in biodiversity, and visitors can easily explore the nearby beaches and coral reefs.
Ocean Builders is situated in Linton Bay for various reasons. There's more to it than just a relaxed ambiance:
Strategic Coastal Location: The city of Colon location, which is right next to the Panama Canal, serves as an exceptional gateway connecting the Atlantic and Pacific Oceans.
Favorable Climate: Panama has a tropical climate that is conducive to oceanfront living and activities. It attracts tourists and residents looking for warm, sunny weather year-round.
Marine Infrastructure: Linton Bay Marina offers essential infrastructure to support marine-oriented ventures like Ocean Builders obviously is! It includes – equipment for loading, mooring and maintenance services. Among its amenities are a travel lift, telehandler, and barge service, ensuring comprehensive support for various marine projects.
Regulatory Environment: Panama has favorable regulations for maritime activities and property development, making it an attractive location for projects like SeaPods.
Eco-tourism Potential: Panama's natural beauty, biodiversity, and coastal regions have significant ecotourism potential. Ocean Builders' SeaPods align with the growing trend of eco-friendly tourism, and Linton Bay Marina is well-situated to tap into this market.
Innovation Hub: Ocean Builders is known for its innovative approach to ocean-based living. Establishing a presence in Linton Bay Marina provided an ideal environment for testing and developing new marine technologies and structures.
Whether you're a passionate advocate of ocean conservation, a pioneer in marine technology, or simply someone seeking solace in the tranquility of the open water, Linton Bay promises a haven where dreams of maritime innovations like the SeaPods become a reality.
GET THE LATEST UPDATES
Want to find out the latest updates?
Submit your email and we will keep in touch.
GET THE LATEST UPDATES
Want to find out the latest updates?
Submit your email and we will keep in touch.