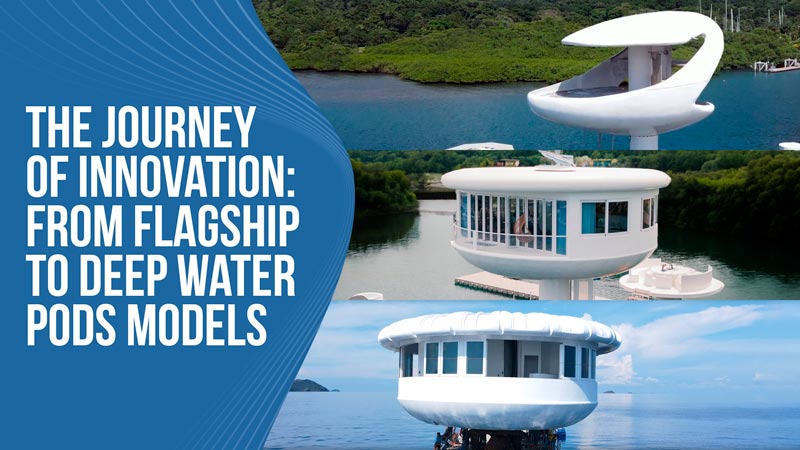 Ocean Builders' journey of innovation has been a remarkable one, driven by passionate minds, and a relentless pursuit of excellence and the desire to provide sustainable solutions in challenging environments.
In this article, we'll take you through the evolution of our models, from the flagship to the deep water edition, highlighting the challenges and lessons learned along the way.
The Flagship Model – Where It All Began
Our flagship model marked the inception of our journey. It was the model that set the stage for everything that followed. The key characteristic of this model is its iconic and visually appealing design, featuring three half-floors that, despite their size, were intricately designed with curves everywhere. These curves made it an incredibly complex structure to build, as it challenged traditional architectural norms.
One of the defining features of the flagship model was the use of curved windows, which posed a unique challenge. Unlike flat windows, curved ones limited our options for suppliers. Finding a supplier who could produce the large and curved windows we needed was a three-year quest. We eventually settled on a resin material, which required large molds and a significant investment.
The Eco Model – Streamlining Complexity
Building upon the experience gained from the flagship model, we introduced the Eco model. The Eco model was a significant departure in terms of design and purpose. It was designed for use in shallow waters, up to 30 meters deep, and featured a simplified structure. This model incorporated the lessons learned from the flagship model and addressed issues of stability, particularly in response to long rolling waves.
The Eco model's design was more straightforward, and it aimed to provide a practical and cost-effective solution for those in need of shallow water conditions.
The Deep Water Model – Meeting the Open Ocean Challenge
Our latest model, the deep water edition, has been developed to withstand the demanding conditions of the open ocean. In open waters, long, rolling waves present unique challenges, particularly with stability. This model is designed to handle these conditions and offers a solution for depths beyond 30 meters. More exciting even, this model features an incredible underwater room!
Lessons learned from the previous models informed the design of the deep water edition, and it features refinements based on real-world testing and experience.
Moving Forward – The Path to Mass Production
As we continue to evolve and refine our designs, we're now on the verge of a new phase – mass production. While our initial models were prototypes with significant manual labor involved, we are now moving towards designing a production system that will enable the creation of units at a scale that makes financial and practical sense.
This new approach will allow us to take our vision to the next level, making it economically viable and accessible to a broader audience.
The Future of Ocean Living is Waiting!
Our journey of innovation has been a testament to the power of persistence and learning from challenges. From the flagship model to the deep water edition, each step has brought us closer to our goal of providing sustainable solutions in a variety of conditions. As we move forward, we are excited to bring our vision to life on a larger scale and make a significant impact in the field of marine architecture.
GET THE LATEST UPDATES
Want to find out the latest updates?
Submit your email and we will keep in touch.
GET THE LATEST UPDATES
Want to find out the latest updates?
Submit your email and we will keep in touch.