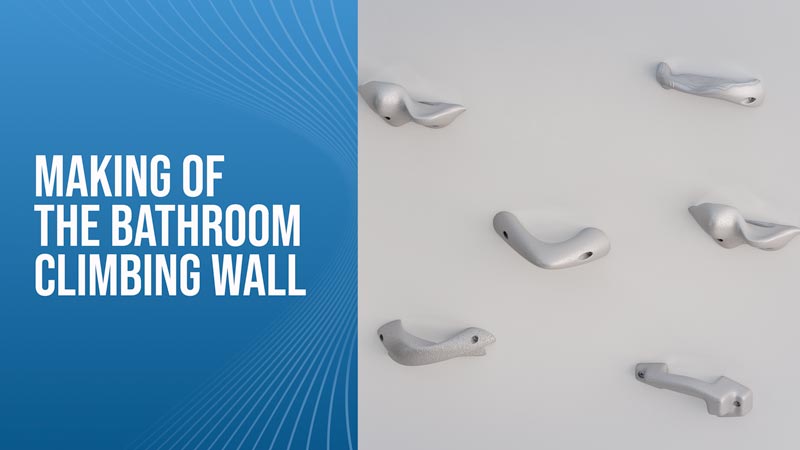 Less than 1 minute
Reading TIme:
Minutes
Access to the roof of the SeaPod goes through the skylight that is located at the top of the shower. We could have easily used a regular ladder for this but we have done so much work to make the SeaPod unique so we felt that a ladder wouldn't fit the theme of the home. Our solution is a rock climbing wall of sorts that is functional and fits the aesthetic of the SeaPod.
For this climbing wall, as with many aspects of the SeaPod, we have had to design and engineer non-traditional solutions to fit our needs. Since the shower has a cylinder shape, the walls are not flat. Since the shower walls are curved, traditional climbing grips would need to be modified to match the curve of the wall. We took this opportunity to design something completely unique to us and the SeaPod.
We had several designs submitted through a design competition. These designs are unique to us and fit with the theme of the SeaPod. With the digital plans, we can 3D print each piece and use that to make a mold. Since there are several options to choose from, you can choose which designs you would like to have included in your wall and we can manufacture what is needed to help reduce sitting inventory and product waste.
These climbing grips offer a unique solution to the need for a ladder while remaining in the aesthetic theme of the SeaPod. The flowing design lines that flow like water will be right at home in the shower while being unobtrusive and effective. Some of the other designs are a bit more bold and unique. Either way, there will surely be an option that fits everyone's style.
The SeaPod is innovative and unique in so many ways and we feel that this climbing wall is no different.
GET THE LATEST UPDATES
Want to find out the latest updates?
Submit your email and we will keep in touch.