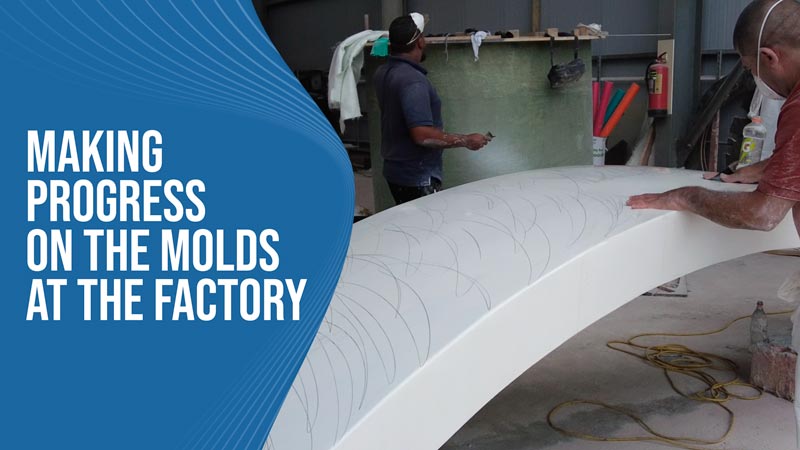 Less than 1 minute
Reading TIme:
Minutes
We are back at the factory where work continues on the SeaPod molds. This is a long process that must be perfect so we are making sure to cover every step and make sure we are as close to perfect as we can be.
In this video, you can see our employees working on one of the sections for the mold. This is the plug, which is the positive mold. We will apply tooling gel and fiberglass to this which will later be removed and used as the actual mold to create the SeaPod.
Since this piece that we are working on will basically be the mold for the mold, it has to be perfect because the shape of this piece is what the shape of the final product will be. These pieces are made from epoxy which is more expensive but much harder and more durable than resin. Durability is important since we will use this master plug to make several molds and we need it to hold up during that process.
In the video, we are sanding the surface epoxy. We basically need it to have a polished finish and be as smooth as possible. We are using a combination of a rotary buffer and super fine-grit sandpaper. This is a tedious process that takes a bit of patience and attention to detail
Since the surface is entirely white, it is hard to see where we have and haven't sanded yet so to help with that, we have drawn on the surface with a pencil. As we sand the surface, we will remove the pencil marks so if we miss any areas, then we can easily see it because the pencil will still be there.
Once the surface is completely polished, we will be able to apply our tooling gel and fiberglass to the surface. After curing for about a day, we can remove the tooling gel and fiberglass layers and we will have our mold that we will use to produce this particular section of the SeaPod.
Our goal is to use these master molds to make several working molds so that we can scale our production and produce more SeaPods at the same time. Every day, we are moving closer and closer to putting SeaPods into production and changing the way that people live forever!
GET THE LATEST UPDATES
Want to find out the latest updates?
Submit your email and we will keep in touch.
GET THE LATEST UPDATES
Want to find out the latest updates?
Submit your email and we will keep in touch.