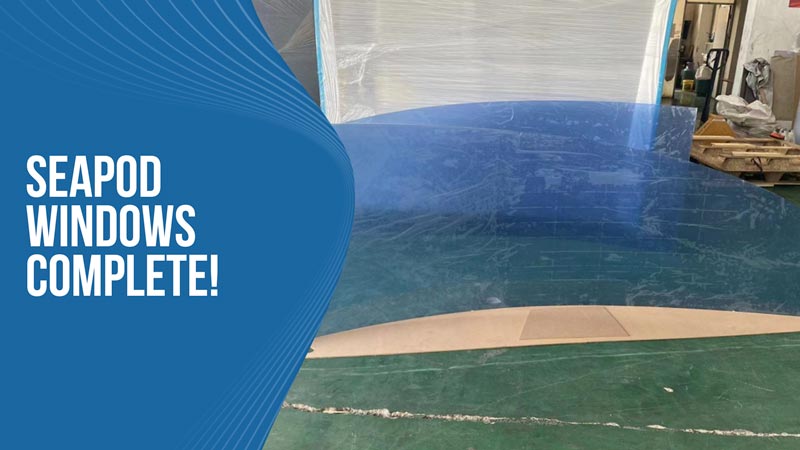 Less than 1 minute
Reading TIme:
Minutes
When the SeaPod was originally designed, one of the things that Grant really pushed for was to have huge windows. One of the best things about living on the sea is having beautiful views, so without big windows to enjoy the views, what's the point?
It's easy to say "Let's have huge windows" and it is not terribly difficult to design them, but bringing them to life and actually manufacturing them is a whole other beast. Flat windows are relatively straightforward and easy, but our windows are curved on two axes to go along with the curved design of the home, and glass doesn't like to be curved that much.
We found out quickly that glass wouldn't be an option so we began our search for an alternative. Over three years we have worked with companies all over the world, some making samples that weren't up to par, some making promises that they couldn't deliver on, and some taking our money knowing that they couldn't get the job done. It was not easy at any point, but after years we finally found a company that can get the job done, and they have.
The windows are a tinted blue that uses the technology of low-emissivity(Low-E) glass. Our windows are polycarbonate but the same technology applies. Low-E uses a thin metal coating to tint the window and block out most of the UV and infrared light. The tint also helps block some of the ordinary light which is important when living on the water due to how bright the sun can be when reflecting off of the sea.
These windows have been an absolute bear of a project and we are absolutely ecstatic that they are finally finished. They will be shipped to the factory here in Panama and will be mounted on the first SeaPod prototype very very soon. Seeing these completed windows is something that we have been working towards for three years and we can't wait to get them into the SeaPod!
GET THE LATEST UPDATES
Want to find out the latest updates?
Submit your email and we will keep in touch.
GET THE LATEST UPDATES
Want to find out the latest updates?
Submit your email and we will keep in touch.