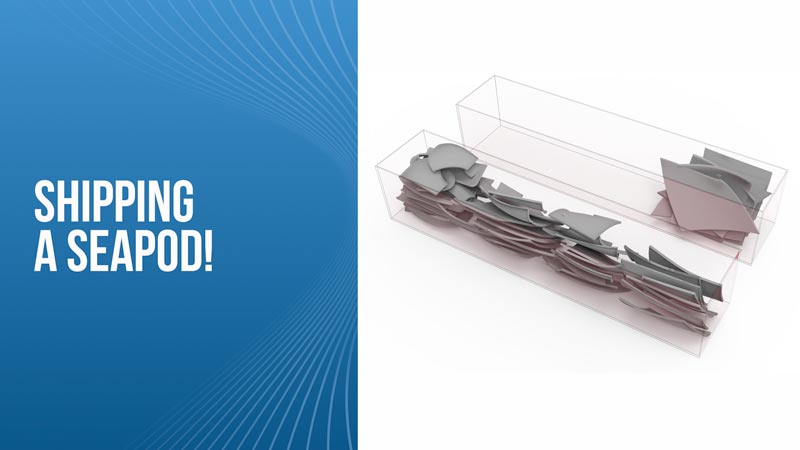 Less than 1 minute
Reading TIme:
Minutes
We are planting the SeaPod seed here in Panama, but our eventual goal is to have SeaPod homes in every corner of the ocean, all around the world. Now, that is much easier said than done, and it means we will have to ship homes our factory being located in Panama, at least at first.
Eventually it may make sense to build these homes closer to the areas where they will be deployed, but we would still have to ship them if someone wants one in a more remote area. This means that we have to fit the home into shipping containers, so we made a render to see how that would work.
You can see the render in the video below where we have the SeaPod broken down into 70 pieces. These 70 pieces are then fit into two standard 40' shipping containers. The render shows the pieces taking one full container and about a third of another, but in reality we would likely need two full containers since it can be hard to pack everything in so tightly.
This is also only the shell of the Pod so shipping spars or outriggers could be another challenge that we may have to tackle but since these things are made of steel, it may be possible to build them on-site since we won't need molds.
Another option is to ship the SeaPod in bigger pieces, even if it required additional containers. Having these 70 small pieces will be very difficult and time consuming when it comes to assembly so having bigger pieces would make that easier.
Either way, we will figure out a way to make it happen and tackle any other obstacles that are bound to arise when we actually try to breakdown and ship an entire SeaPod. Seeing that we can fit it into only two containers is a great sign and using fewer containers means less cost involved with shipping them.
The ability to put these homes into shipping containers gives the entire planet access to our homes and we hope to one day see people enjoying life in our SeaPods all around the planet.
GET THE LATEST UPDATES
Want to find out the latest updates?
Submit your email and we will keep in touch.
GET THE LATEST UPDATES
Want to find out the latest updates?
Submit your email and we will keep in touch.