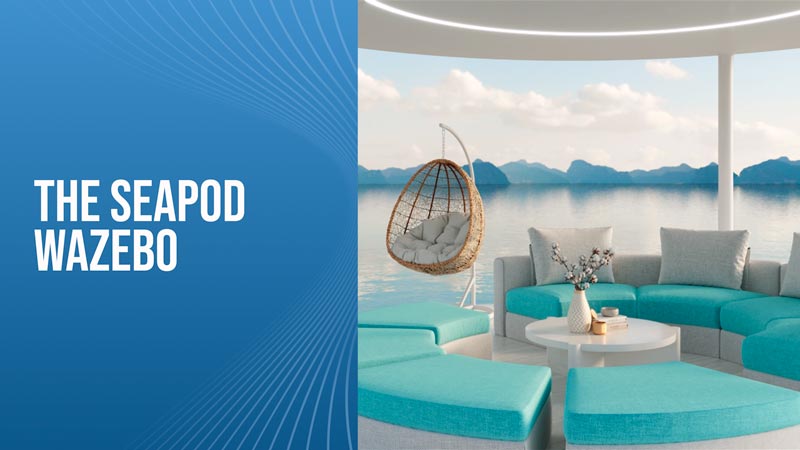 Less than 1 minute
Reading TIme:
Minutes
One of our concepts that we have created is the wazebo. This will be a gazebo type area and since you will be floating just above the water, so with Water + Gazebo, we have dubbed it the Wazebo. We want the wazebo to be more than a place to sit outside, it will be an experience.
Located on one of the spars, the wazebo will be a relaxing place where you can relax and enjoy the water every day. Most people make a point to take a week or so to go to the beach to get a break from work, but with the wazebo, you can recharge your batteries every day. You won't need to plan a seaside getaway when you have this mere steps away.
Since the wazebo is located on one of your side spars, the ballast tanks that we have created are able to compensate for the extra weight of you and your guests being there so that everything stays level. You can read about how these tanks work here: SeaPod Ballast Tank Update.
The wazebo will be the perfect place to sit with guests and enjoy a bottle of wine, good conversations, and the breeze of the ocean. Our lighting system will help create the ambiance even after you watch the sun sink below the horizon. If you want to have some music playing while you relax on the water, our audio system will deliver the tunes, and is easily controlled from your cell phone.
The wazebo can give you the perfect place to enjoy the tranquility of the ocean if you like to practice yoga as the sun rises in the morning or a meditation session during the day to mentally refresh yourself. This spot can be as magical as you would like to make it.
You can add outdoor couches, chairs, and tables to make the wazebo a great setting for enjoying an evening with guests or families. Adding a hammock may be the perfect way for you to drift away into sleep as the sun is peacefully replaced with the moon each night. Regardless of how you decide to use your wazebo, it is sure to provide a refreshing, relaxing, and peaceful place for you to enjoy while afloat at sea.
GET THE LATEST UPDATES
Want to find out the latest updates?
Submit your email and we will keep in touch.
GET THE LATEST UPDATES
Want to find out the latest updates?
Submit your email and we will keep in touch.