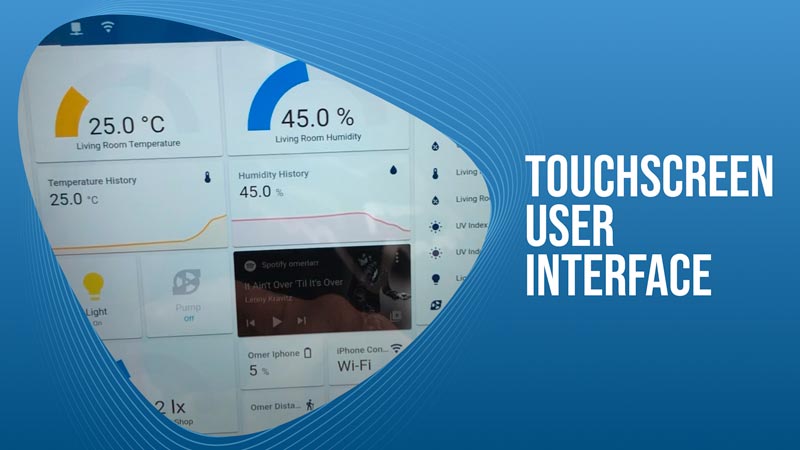 Less than 1 minute
Reading TIme:
Minutes
The touchscreen interface that we have been developing will act as sort of a control center for your Seapod. This design that you see here incorporates a touchscreen tablet that is encased in a wall-mounted housing box. This allows us to install a tablet on the wall in every room of the SeaPod, or wherever you decide that you want to have one. Alternatively, you could use the same functions from a cell phone or a normal wireless tablet without mounting them to the wall.
The touchscreen interface will give you control of many of the functions of the SeaPod. This is a customizable system that can be adjusted to fit your needs or preferences. You can see here that we have access to the temperature and humidity history within the SeaPod. This can be expanded to any other sensors that you want to use in your home. It will also feature a weather station so that you can easily see information about the outside weather.
Additionally, you can control your music from the home screen, navigate to different playlists, control music, and navigate forwards or backward on the tracklist, similarly to the way that we do on our cellphones. The LED lighting system can be fully controlled from the tablet as well. Read about how we will implement LED lighting in our blog here: LED Lighting System for the SeaPod
Another function is the use of the camera which is already installed on the tablet. This camera can act as an IP camera without the need to add another device to the room. The camera can be used for surveillance and viewed remotely since it will be connected to the internet. In addition to this, we can add things such as facial or gesture recognition ability to further expand the functionality of the SeaPod. You will also be able to use the tablet to view the cameras located in other parts of the home.
The tablets will be secured inside the housing where their normal charging cable will be able to be routed through. This allows the tablet to easily be removed without the need to disconnect anything except the charging cable. This will make it a simple process if you need to move or replace your tablet for any reason.
Whether you are using this interface on a wall-mounted tablet in every room in your SeaPod or simply from a wireless tablet or your cell phone, this system will create an intuitive control center to add to the functionality of your home.
GET THE LATEST UPDATES
Want to find out the latest updates?
Submit your email and we will keep in touch.
GET THE LATEST UPDATES
Want to find out the latest updates?
Submit your email and we will keep in touch.