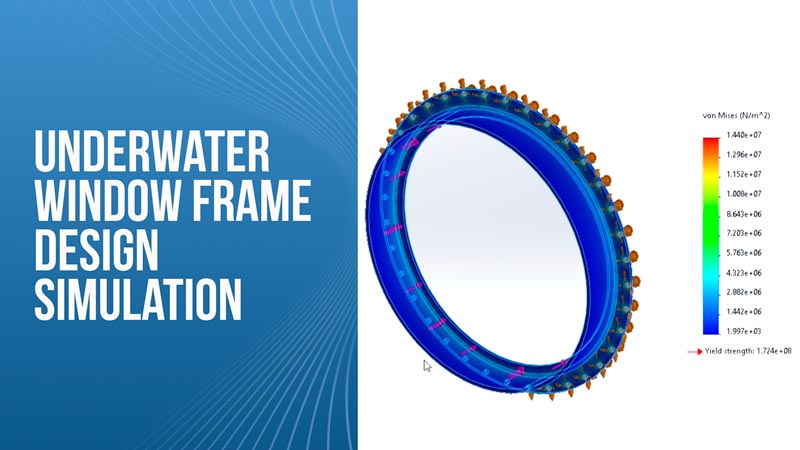 Less than 1 minute
Reading TIme:
Minutes
We have a design for an underwater room that will be below the SeaPod, and totally underwater. Dealing with water pressure is a very important factor when going underwater and when lives are at stake, it is the top consideration to keep things safe. The easiest solution would simply be to make solid walls with little to no weak points, but what is the point of an underwater room if you can't look out and enjoy the marine life surrounding the home?
So we need windows… and as with everything we have done, we have to design and build them. Here we have the digital rendering that shows the design of the window. The original design was done by our Lead Engineer and President of Ocean Builders, Rüdiger Koch, and another of our engineers Omer Larranaga has made some revisions and then built the digital simulations to get everything ready for production.
The circular design has a one-meter diameter and thickness of about 15 centimeters. The frame is made up of an inner and outer frame that join together to encase the window and everything will be water-sealed using silicone. This design allows us to bolt a plate on the inside of the window that can seal everything off so that we can remove the outer frame and the window pane without flooding the room.
This design software also allows us to simulate the stress that different zones of the part will experience. This allows us to get a good idea of the strength of the part before we build it. Once we are happy with the simulations, we can make a few prototypes to test the real-world strength of the part since we don't want to blindly trust the simulations. If the part holds up to the testing, then we can put it into production to be used in our homes.
We currently have a prototype window and the prototype frame is being made and we should be receiving them soon so that we can do the initial testing. We will do our tests and report our hopefully positive findings here in the blog, so stay tuned!
GET THE LATEST UPDATES
Want to find out the latest updates?
Submit your email and we will keep in touch.
GET THE LATEST UPDATES
Want to find out the latest updates?
Submit your email and we will keep in touch.