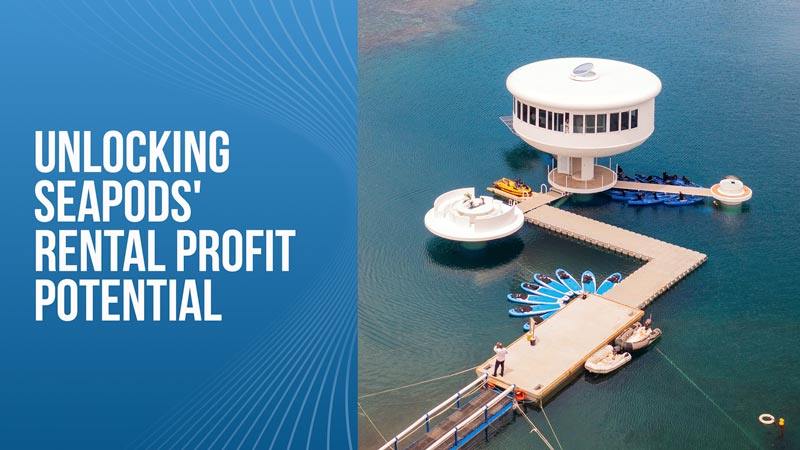 Less than 1 minute
Reading TIme:
Minutes
Welcome to the Future of Profitable Oceanfront Living! Welcome to the future of what it means to rent accommodation for anyone seeking a different type of temporary home during their travels, or for a longer-term residence.
That's why Ocean Builders' SeaPods aren't just futuristic floating homes; they're an unparalleled investment opportunity. In this deep dive into SeaPods' rental potential, discover how these innovative structures can turn tides in the hospitality industry.
Overview: Beyond Luxury Living
A SeaPod isn't just a residence; it's an investment in a lifestyle. Crafted by Ocean Builders, these floating marvels seamlessly merge cutting-edge design with sustainable technology. Designed to endure ocean conditions, SeaPods promise an extraordinary living experience, making them the perfect canvas for profitable rentals.
SeaPod Lifestyle: An Experience Worth Renting
The SeaPod lifestyle isn't just a tagline; it's a marketable experience. Embracing the beauty and tranquility of living by the water, SeaPods offer a unique proposition for renters seeking more than just accommodation. Boating, fishing, or simply basking in scenic views – SeaPod living is a lifestyle worth renting.
Accommodation: Tranquil Luxury Meets Profit
SeaPods aren't just eco-friendly; they're a refuge for renters seeking sustainability. Nestled along coastlines, these pods maximize natural light and ocean views, creating a serene ambiance. Each pod is a potential income-generating haven for those seeking a tranquil and immersive stay.
Technical Features: Sustainability Sells
Renters today seek more than just a place to stay; they crave eco-friendly experiences. With solar panels, waste water recycling, and smart amenities, SeaPods embody sustainable living, making them an attractive option for conscious consumers.
Environmental Commitment: Green Stays for Green Days
Environmental responsibility isn't just a buzzword; it's a selling point. Ocean Builders' commitment to ocean conservation resonates with environmentally-conscious renters. A stay at a SeaPod isn't just a getaway; it's a chance to contribute to a greener future.
Collaboration: A Community for Profit
SeaPods aren't just individual units; they're part of a collaborative community. Partnering with businesses for marine restoration and creating a vibrant SeaPod community enhances the rental appeal. Collaboration is the key to unlocking SeaPods' full profit potential.
Rental Management Program (RMP): Passive Income Made Simple
Owning a SeaPod doesn't mean becoming a full-time manager. The RMP takes care of marketing, guest inquiries, check-ins, maintenance, and rental payments. For SeaPod owners, it's an effortless way to turn their investment into a consistent stream of passive income.
Benefits of RMP: Boosting Revenue, Minimizing Effort
Increased occupancy, enhanced property exposure, and streamlined operations – the RMP ensures SeaPod owners reap the rewards without the hassle. It's not just about renting a pod; it's about maximizing revenue effortlessly.
Rental Software: Efficiency in Every Booking
Streamlining SeaPod operations is essential for profitability. Rental software manages agreements, payments, and maintenance, ensuring that every aspect of the rental process is efficient and effective.
Included Services: Elevating the Rental Experience
SeaPods offer more than just a place to stay; they provide an entire experience. From stocked fridges to private chefs, the range of included services caters to renters looking for a seamless and luxurious getaway can be as extensive as you decide it to be.
Maintenance: Ensuring Profitable Stays
A well-maintained SeaPod isn't just a pleasant stay; it's a recipe for repeat bookings. Robust maintenance programs ensure SeaPods remain reliable, garnering positive reviews and attracting more renters.
SeaPods – Beyond Accommodation
In conclusion, investing in a SeaPod isn't just about owning a home; it's about unlocking a world of rental profit potential. Whether you're a savvy investor or a SeaPod enthusiast, the future of profitable oceanfront living awaits.
Dive into the possibilities at www.oceanbuilders.com
GET THE LATEST UPDATES
Want to find out the latest updates?
Submit your email and we will keep in touch.
GET THE LATEST UPDATES
Want to find out the latest updates?
Submit your email and we will keep in touch.