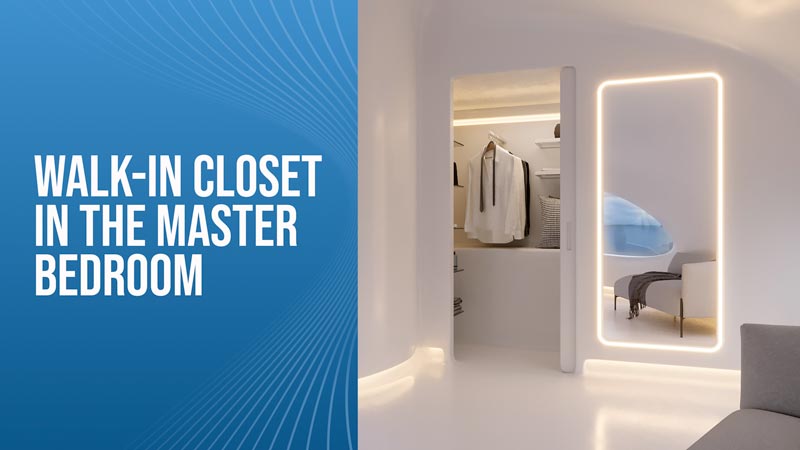 Less than 1 minute
Reading TIme:
Minutes
Here we have our CEO Grant walking us through the design of the walk-in closet that will be located in the master bedroom.
One of the biggest challenges in building a floating home like the SeaPod is finding ways to be as efficient as possible with space. When we were reviewing the design of the SeaPod, we realized there was a large area that runs behind the bathroom and shower which was unused.
Much of this space is above the kitchen cabinets, so it isn't the full height of the second floor from floor to ceiling, but it is still usable. Luckily, there is a full-height area that is directly next to the shower in the bedroom. Once entering the closet, there is a full-height area to the right which can be used to hang longer clothes like dresses or for whatever else you decide you would like to store there.
This area was planned to be the closet all along, but we noticed that we had more space that could be connected to the closet and expand the storage space considerably. So to the left, there is basically an elevated shelf that runs the distance of the back of the shower and the bathroom.
This is the area that was previously being wasted so we have purposed it into being additional storage space. There can also be access to this area from the bathroom so that you can access the space from either end. This storage area would be perfect for things stored in boxes or tubs, or longer items that you want out of sight.
This would also be a great place to store things that you use often so that you don't have to run down to the storage room to get them every time that you need them. This new storage area coupled with the shelves, racks, and clothes hanging rods in the closet will give you plenty of space to store anything that you want.
The walk-in closet will also feature a sliding door that can be opened and closed manually or automatically. This door will be lockable so if you have guests over and you want to keep kids or anyone else from wandering in and finding your things, you can easily lock the door so that it will only open for you.
In a home where space is so precious and important, finding this storage space is another example of ways that we are maximizing every square inch of the SeaPod so that you can live efficiently and have plenty of space for your life on the water.
GET THE LATEST UPDATES
Want to find out the latest updates?
Submit your email and we will keep in touch.
GET THE LATEST UPDATES
Want to find out the latest updates?
Submit your email and we will keep in touch.