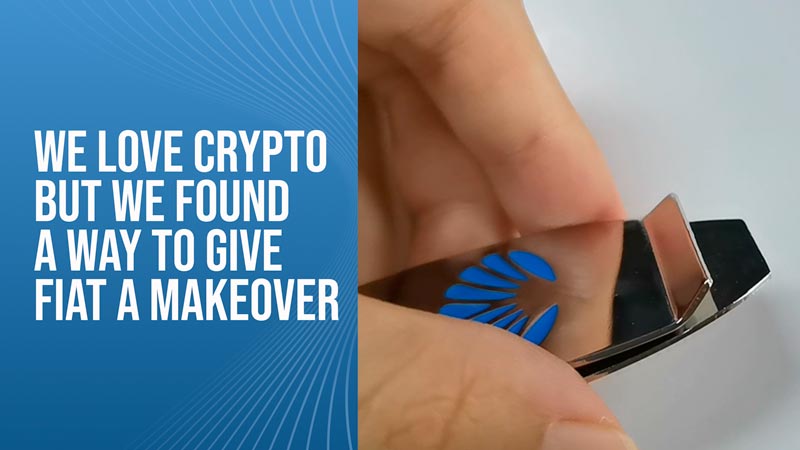 Less than 1 minute
Reading TIme:
Minutes
Here at Ocean Builders, we love technology and innovation, and cryptocurrencies are no exception to that. While we think crypto is great, and probably the way of the future, we also accept that fiat currency isn't going anywhere any time soon.
Cryptocurrencies are kept in a digital wallet but fiat, or good old cold hard cash can't be kept digitally since it is something that we physically hold and use. Most people carry a wallet with their cash and cards and that works for some, but it is more of a habit and we feel there is a better solution.
Wallets are bulky and not ergonomic at all. Having a wallet in your back pocket and sitting on it all day can actually cause your hips and pelvis to move out of alignment with your back. Grant has suffered from back problems for most of his life, so he realized rather quickly that having a wallet in his back pocket was doing him no favors and he switched to a money clip.
Money clips are not only lower profile but they also force you to cut down on the bulk and only carry the cash and cards that you need. It is easy to over-stuff a wallet with a bunch of junk that you never use and before you know it you have a bulky wallet that is uncomfortable and inconvenient. Money clips have more of a minimalistic approach to keep things slim and comfortable.
Now, we know that there are plenty of money clips out there and you might even have an old one laying around the house, but we wanted to make our own money clip for those who want to support our project and sport our cool logo. Grant has been using one of the first samples for a few months with great results and we are now sending them into full production.
We should start receiving them soon so they will hopefully be available on the website very shortly. If you needed a reason to ditch that bulky wallet and simplify your life while protecting your health, let this be that reason. And since we can't completely ditch fiat just yet, you might as well keep your cash neat and organized while representing the future with the Ocean Builders logo in your pocket every day!
GET THE LATEST UPDATES
Want to find out the latest updates?
Submit your email and we will keep in touch.
GET THE LATEST UPDATES
Want to find out the latest updates?
Submit your email and we will keep in touch.