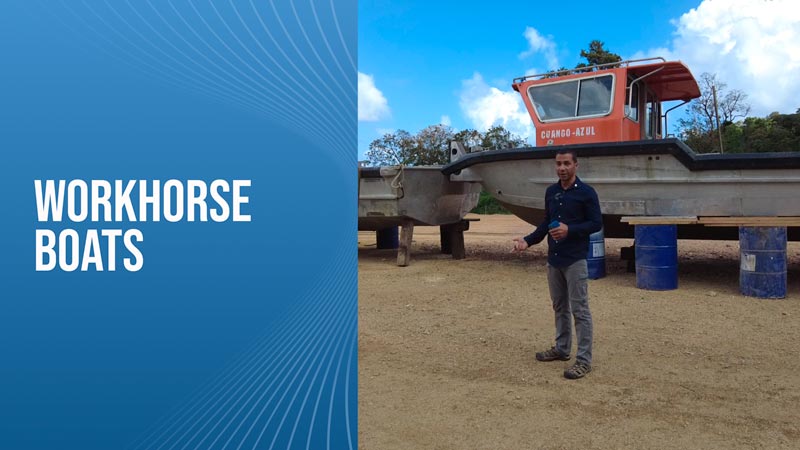 Less than 1 minute
Reading TIme:
Minutes
Grant wanted to bring everyone another update from the factory about two boats that we have been renovating over the past few months. The company that was using the boats previously hadn't used them for quite a while so they were salvaged and we picked them up.
The restoration process over the past few months has been going well and we have almost brought them back to life. We are almost to the point where the only things they need are new motors and a fresh coat of Ocean Builders blue paint. After that, they should be ready to go and ready to get to work here in the marina.
The main purpose of these boats will be to push SeaPods through the water. Since the SeaPods will be located a bit offshore, we need a way to get them from the marina where we launch them to their final location. Without any kind of drive system onboard, the SeaPods will need to be towed out to where they are going.
So these two boats will be the workhorses that move the SeaPods through the sea. Working similarly to tugboats, we will either push or tow the SeaPods to their final location. Our initial idea is to use a smaller guide boat that is ahead of the SeaPod and then have these two boats doing the muscle-work and pushing from behind, one on each side of one of the outriggers. With this method, we should be able to move the SeaPods at around 1-2 knots, which for boats is slow but is pretty quick for a home to be moving.
We will eventually need to move SeaPods further distances like 100 miles or more away. We have to look at these boats and do the calculations for the cost of fuel and the time it would take to see if they will be a viable option for that task. We won't know for sure until we get these boats in the water and start moving SeaPods around. These boats will be an important part of our fleet and will come in very handy for years to come!
GET THE LATEST UPDATES
Want to find out the latest updates?
Submit your email and we will keep in touch.
GET THE LATEST UPDATES
Want to find out the latest updates?
Submit your email and we will keep in touch.