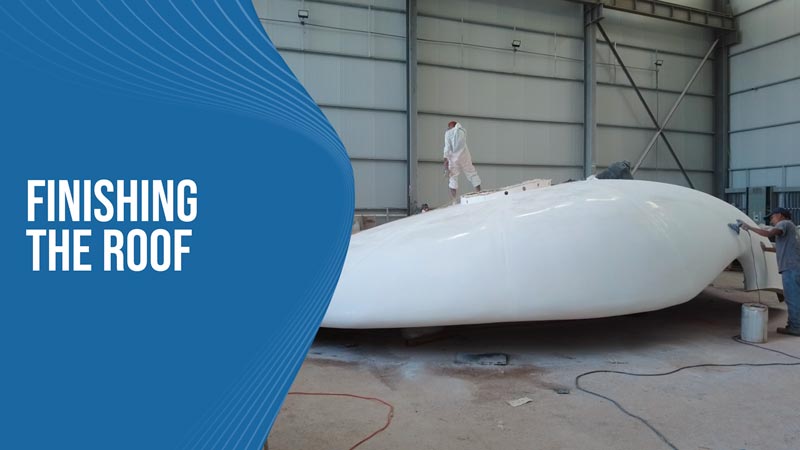 Less than 1 minute
Reading TIme:
Minutes
The crew is hard at work here at the factory working on putting the final touches on the first SeaPod roof. We make the roof upside down so the bottom is already complete, but we recently flipped it over for the first time and now it's time to get the exterior surface polished and ready to go.
We first have to sand the surface to get rid of any imperfections that may be present from the mold. These are common and easy to fix, we just have to do a bit of sanding. Once the entire surface has been sanded and is as perfect as we can get it, we will spray a layer of gel coat on the entire surface. This will give us a super hard layer to protect everything, sort of like the clear coat that is applied to the paint on cars. We are shooting for a matte finish that will help hide any cosmetic imperfections that we can't get out.
You can see in the second half of the video how we spray the gel coat onto the surface. It sprays on just like paint but will be very durable once cured. We spent about three days sanding the entire roof section and then washed everything off so that there would be no residual dust from the sanding process. The final product will resemble powder-coated metal. It will be more matte than shiny and it will have a slight texture to it.
This is an extremely exciting moment for us as we near the completion of this first roof. Almost three years ago to the day we completed the first designs for the SeaPod, and now we are days away from mounting this finished roof section on top of the completed lower section. Seeing this project come together like this has been absolutely incredible and we are moving closer and closer every day to getting this first SeaPod prototype in the water!
GET THE LATEST UPDATES
Want to find out the latest updates?
Submit your email and we will keep in touch.