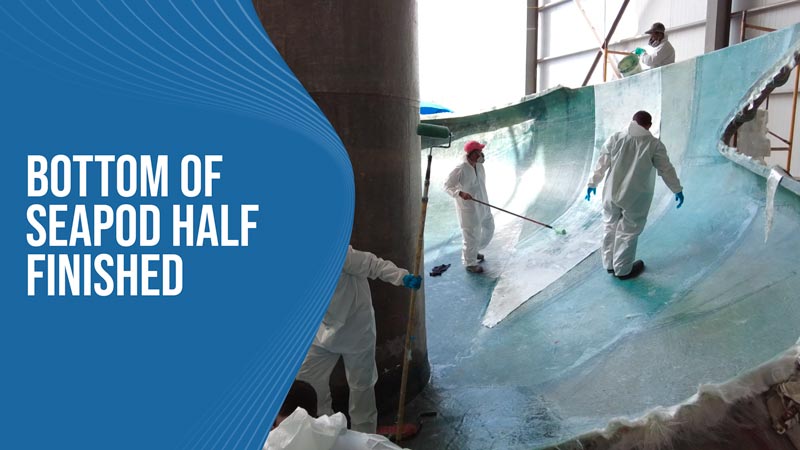 Less than 1 minute
Reading TIme:
Minutes
We have been hard at work and making steady progress on the bottom half of the SeaPod shell here at the Ocean Builders Factory in Panama. Craig is back to give us a quick explanation of the work that we have been doing. You can see in the video below that things are coming along nicely and should be finished very soon.
After we assembled all of the pieces of the mold, we applied a layer of releasing wax which helps make it easier to pull the finished fiberglass piece from the mold. After the wax goes in, we apply a layer of gel coat which gives us a smooth and strong outer finish. After the gel coat is applied, we start laying the fiberglass and resin. The layers of fiberglass are what will give the entire structure the rigidity that it needs. We have more than half of the required layers done and the rest should be finished within a week.
You can see in the video how things are being done. We have the main spar in the middle where we will have 12 layers of fiberglass to give some extra rigidity and strength since this is a load-bearing area. Toward the top of the bottom bowl, we will have seven layers of fiberglass. We will reinforce the top sections so that we will have a little bit of extra strength when we attach the top half of the SeaPod.
After all of the layers are applied and all of the resin has had time to cure and harden, we will remove the mold sections one by one. This takes a bit of strength and muscle but once that is done, we will have the first completed SeaPod bottom half. We will likely have to go back and buff out a few imperfections that may be left by the mold, but that is expected and shouldn't take too long to take care of. We are very excited to watch this first SeaPod come to life and we hope that you follow along with the journey as we work towards getting it in the water!
GET THE LATEST UPDATES
Want to find out the latest updates?
Submit your email and we will keep in touch.