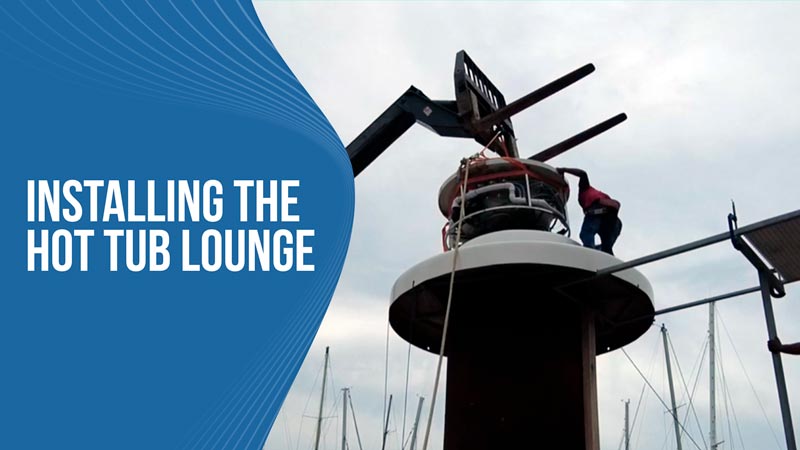 Less than 1 minute
Reading TIme:
Minutes
Another day, another set of challenges to overcome, and another successful job done by the Ocean Builders crew. We got the hot tub lounge and the hot tub installed on the outer spar.
This proved to be difficult for a few reasons. The first is that we are working several meters above the ground. So everything needs to be lifted to the top of the spar with our telehandler and then guided into place by the crew. There isn't a ton of space to work with so having people up there is difficult.
We started with getting the fiberglass shell of the lounge area in place. This piece isn't super heavy but it was very finicky to work with and we had to readjust our approach a few times. This lounge area will serve as the seating area that goes around the hot tub. The cushioned seats face outward and will be the perfect place to dangle your feet over the water.
Once the seating area was installed we went ahead and got the actual hot tub in place. This tub fits right into the middle of the lounge area but there isn't a ton of wiggle room to work with. We got the hot tub secured to the telehandler and lifted it up so that we could lower it into place. To get this done we had to have someone inside the spar to help guide it into place. Not the greatest working conditions but we do what needs to be done!
Now that everything is in place on the spar we can start working on the plumbing and electrical work to get everything functioning. This hot tub will be a nice touch and a fantastic spot to enjoy a glass of wine as you relax in the evening. Getting it in place was not easy but we made it happen and we can't wait for you to kick back and enjoy the bubbles!
GET THE LATEST UPDATES
Want to find out the latest updates?
Submit your email and we will keep in touch.