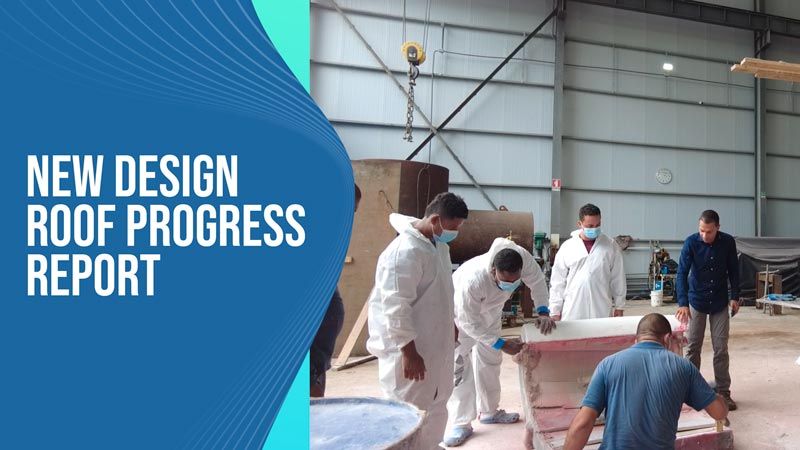 Less than 1 minute
Reading TIme:
Minutes
We are back at the factory with Grant who has an update on a slight design change to the SeaPod roof. We are working on a design that would give us the option to collect rainwater easier which could be used in the greywater systems for washing dishes or flushing toilets.
The idea is to have the roof take on a bit of a donut shape that would be sloped inward and act as a funnel to collect the rainwater. Instead of having it run off the roof and into the ocean, we can harness the "free" water to make our water system more efficient.
The team is currently working on the mold for one of the new roof sections. We made the plug and then built the mold around it and the crew is now removing the mold so that we can test it out. This particular section is extremely tight and difficult to remove so it is taking quite a bit of work with hammers and shims to get it to release. Any damage that happens to the mold during this process can be repaired after we get it out.
The new roof will be made up of 28 of these sections which will go around the top of the SeaPod like a ring and the water will collect in the middle after running down the inward-facing slopes. This ring will be the outer edge of the roof and a large funnel-like disk in the middle will direct the water into the storage tanks.
These 28 sections will take about another two weeks to complete and we will probably spend two more weeks on the center disk. We still have to figure out the best way to make the center disk and we will surely have some trial and error so stay tuned and we hope to have some more updates on this new roof coming to the blog very soon.
GET THE LATEST UPDATES
Want to find out the latest updates?
Submit your email and we will keep in touch.