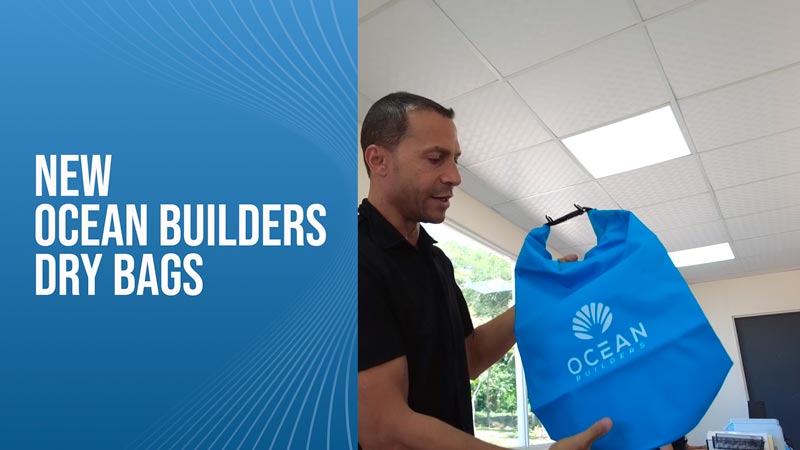 Less than 1 minute
Reading TIme:
Minutes
We have been working on some new products that we think will be great additions to the lifestyle of living in the water that you will get with the SeaPod. Here we have our CEO, Grant Romundt showing some examples of one of these products.
Living in a SeaPod will bring constant contact with water, there is simply no way to avoid that. Humans get several health benefits from living near the water, unfortunately, cell phones, cameras, laptops, food, and plenty of other things would disagree. So for the things that we want to keep dry, we have our new Ocean Builders branded dry bags.
These bags feature a roll-top design which when properly closed, will create a water-tight seal and keep everything inside the bag dry. By simply rolling the top of the bag down a few rolls and clipping the clips together, you can keep your belongings safe and dry. The bags also come with a strap that you can clip on to make carrying easier or to use as a tether.
We currently have 5 liter, 10L, 15L, 20L, and 30L bags so that you can pick the size that is able to fit the things that you want to keep dry so that you don't have to bring a large bag for only a few small items. Additionally, they pack down very small so that they won't waste very much space when they aren't being used.
These bags are perfect if you are traveling to or from your SeaPod or if you are taking a kayak or paddleboard trip and you want to bring a lunch or camera. You could also use them on any other adventures that you go on where you may get wet. If you capture a bit of air in the bag then the bags will even float, depending on how heavy your items are. Some of them are even small enough to throw in your backpack, just in case you might need one.
This is one example of some products that we are working on that will help to make the SeaPod lifestyle easier and more stress-free. Stay tuned for more!
GET THE LATEST UPDATES
Want to find out the latest updates?
Submit your email and we will keep in touch.
GET THE LATEST UPDATES
Want to find out the latest updates?
Submit your email and we will keep in touch.