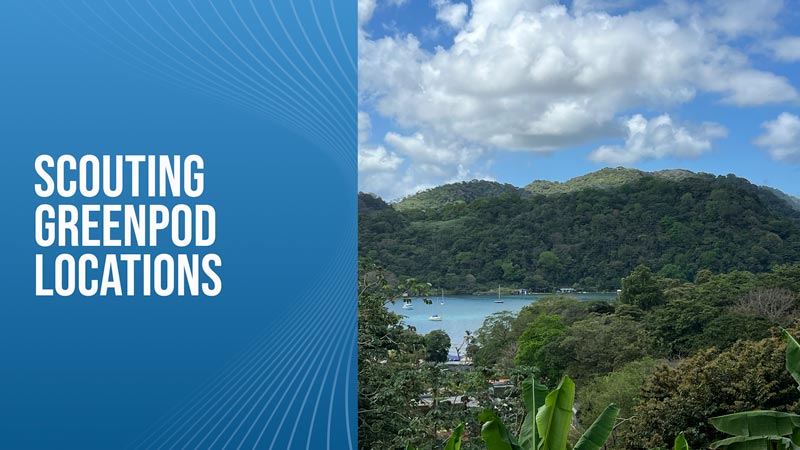 Less than 1 minute
Reading TIme:
Minutes
Grant recently went on a hike through the jungle here in Panama to scout out some potential locations for our GreenPod which will essentially be a SeaPod that is on land. We know that not everyone wants to live on the water and we feel that our design has a ton of benefits over traditional homes on land. Some people naturally connect more with the Earth than the sea so we want to give the option for both. The best thing about this location is that we are still close enough to the sea for you to experience many of the health benefits of living near the water.
We have found some excellent spots to build GreenPods on the crest of a little hill, about 70 meters above the marina where our SeaPods will be deployed. This little hill is overlooking the marina and has absolutely stunning views of the gorgeous blue ocean and is surrounded by plenty of flora and fauna.
You can see in the video that we have already dug a few holes that would act as the foundation for the GreenPod. One of the benefits of the center spar design is that this hole that you see is the only earth that we will need to cover to build this home. Traditional houses require the entire area to be clear cut so that the foundation can be poured out but our solution only requires a small area directly beneath the home.
By not disturbing too much of the natural greenery, we can really make the GreenPod coexist with the nature that is already living there, like a treehouse of sorts. Since the livable pod portion will be several meters off the ground, we won't disturb the plants and animals that call the ground their home too much. You will be living amongst the trees instead of living where they used to live.
We believe that this idea has the potential to change the way that we build homes on land. By elevating the structure and coexisting with the nature that is already there, we can protect our wildlife and current ecosystems and live amongst them. When every acre counts, it is important to not have to destroy plants and animals to build a home. We will continue scouting locations for our GreenPods and maybe one day you will live with all of the technology and convenience of the SeaPod without having to be in the ocean.
GET THE LATEST UPDATES
Want to find out the latest updates?
Submit your email and we will keep in touch.
GET THE LATEST UPDATES
Want to find out the latest updates?
Submit your email and we will keep in touch.