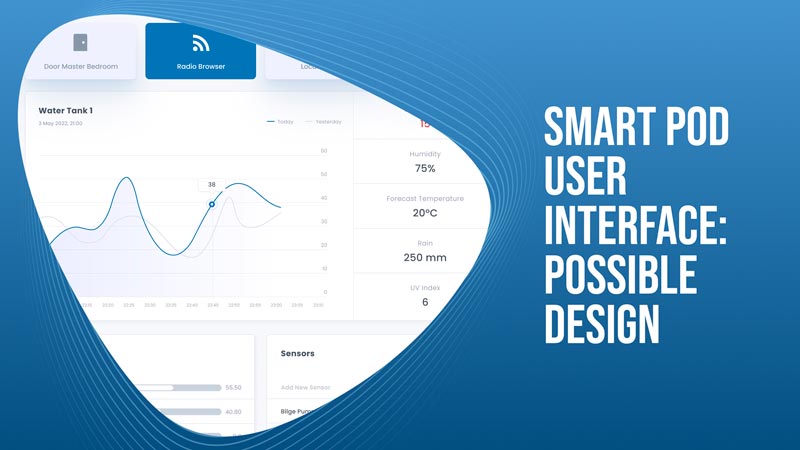 Less than 1 minute
Reading TIme:
Minutes
Grant is back to give us a walkthrough of the new user interface for the Pod Companion app which will be used to control everything inside the SeaPod, EcoPod, and GreenPod. The design that you see here is hopefully going to be pretty close to at least the launch version of the app. We want to build a good base that will be easy to adjust down the road.
As you can see, the app includes basically all of the components of the home. You can control lights, entertainment, climate control, processes in the home, and much more. You can also see the status of different sensors, pumps, and other data about the Pod.
Our goal is to make this as user-friendly as possible. Simplicity is a big part of what we are going for so we want to make sure that this app is easy and convenient to use. The app will be installed on all of the tablets in the home and also be available on the Apple App Store and Google Play Store.
We are setting the app up at a good starting point that will work for the entire Pod, but for those who want to, it will be possible to further customize the setup of the app. With this app, you can also control your Pod or any Pod that you have access to from anywhere in the world. So if you want to double-check that the doors are locked or if you want to turn on the air conditioner so it is cool when you get home, it will be possible as long as you have an internet connection.
As we move closer to launch, we want to make sure that we have the app ready to go with plenty of presets so that you can really pick it up and easily control the home right from the start. This app will ultimately evolve over time and as we get feedback from users but so far we are happy with where we are so far.
GET THE LATEST UPDATES
Want to find out the latest updates?
Submit your email and we will keep in touch.