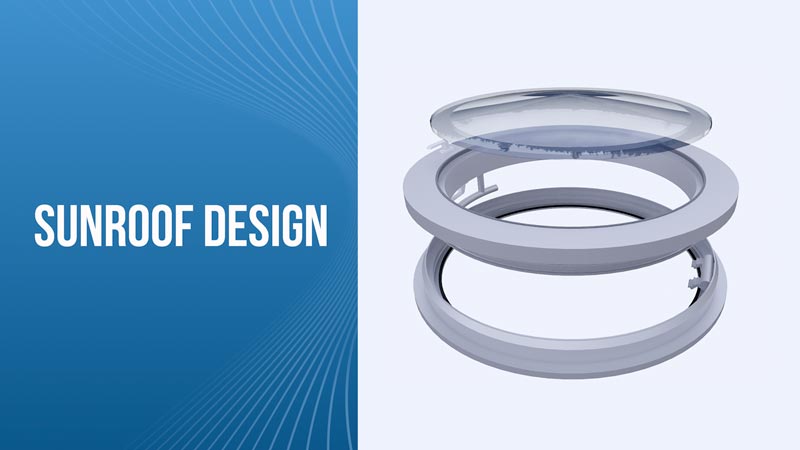 Less than 1 minute
Reading TIme:
Minutes
The SeaPod needed a way to have access to the roof from the inside of the home so we came to the conclusion that a roof hatch would be the best option. Since the SeaPod is designed using curves and circles, we decided to go with a circular roof hatch that is located directly in the center of the SeaPod roof which happens to be directly above our circular shower. You can access the roof hatch using the climbing wall that will be installed in the shower.
All SeaPods will have this roof hatch and then we will have the option to have a clear window that will act as a skylight or sunroof instead of just a solid metal door. This sunroof will allow you to get a little bit of natural sunlight in the bathroom or let you look at the stars and moon at night while you are enjoying your endless shower.
This window will be very large at about 1.6 meters across so building it out of glass would make the hatch structure weigh about 100kg(220lbs) and at that weight, it would be extremely difficult to push it up and open it. We can reduce the weight to a more manageable 40kg(88lbs) by going with a polycarbonate material in place of the glass.
Another option that we are looking into is adding motors to the hatch so that it will be able to open itself at the push of a button. This could also use sensors that would automatically open it if it gets too hot in the home or close the hatch if it starts raining or if the wind is strong enough that it could cause damage to the door. This is something we are exploring and likely won't be in the first iterations, but could happen down the road.
This hatch has gone through several design changes throughout the entire process but we think that we have settled on something that will work the way that we need it to and will also look nice and fit the design of the home. We are having the polycarbonate window being made right now so hopefully, we will get it in our hands and do some testing on it very soon!
GET THE LATEST UPDATES
Want to find out the latest updates?
Submit your email and we will keep in touch.
GET THE LATEST UPDATES
Want to find out the latest updates?
Submit your email and we will keep in touch.