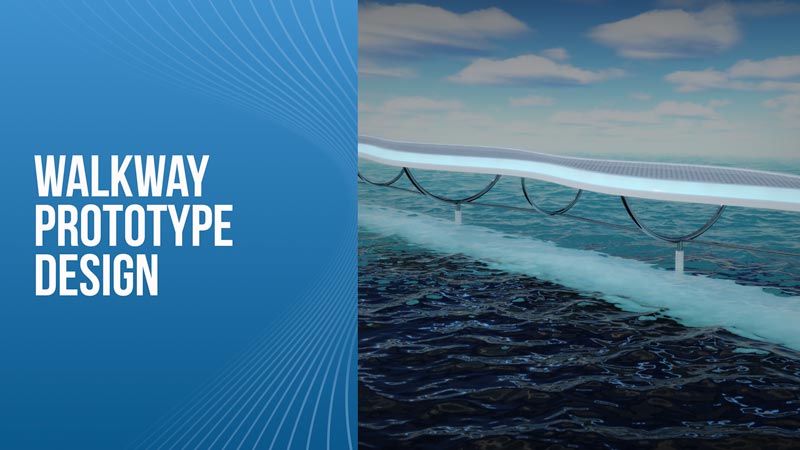 Less than 1 minute
Reading TIme:
Minutes
The TriPod model has the option for different additions to the end of the outriggers like the Wazebo, a hot tub, or a spot to dock your boat. The problem is that the outriggers will be fully submerged so we need some sort of walkway to take you from the center spar to the outer spars, the solution is a walkway that will be mounted on the outriggers but rise above the water.
Here we have Grant's favorite design and the one that we will most likely go with for the final product. It has a sort of wavy design that not only looks great but will help us save materials to keep waste low and keep costs down. It is made of a material called fiberglass reinforced plastic which has a good strength-to-weight ratio and will give us the durability needed for the harsh marine environment.
The walkway design has a grated floor which will allow water to easily pass through in the event of rain or a large wave. This is important so that water doesn't pool up and make the walkway slippery, but more importantly that a wave coming up from below will simply pass through the grates instead of pushing on a solid surface and causing pressure that could weaken the structure over time.
The edges of the walkway will have LED light strips that will make it look nice but also make it safer for walking in the dark. The support frame will look nice while also giving us the strength necessary to make sure everything is safely and securely mounted to the outrigger. This is our favorite contender for the design of the walkway and we are happy with the designs both aesthetically and also structurally and we are excited to hopefully get it built and mounted to the outriggers soon!
GET THE LATEST UPDATES
Want to find out the latest updates?
Submit your email and we will keep in touch.