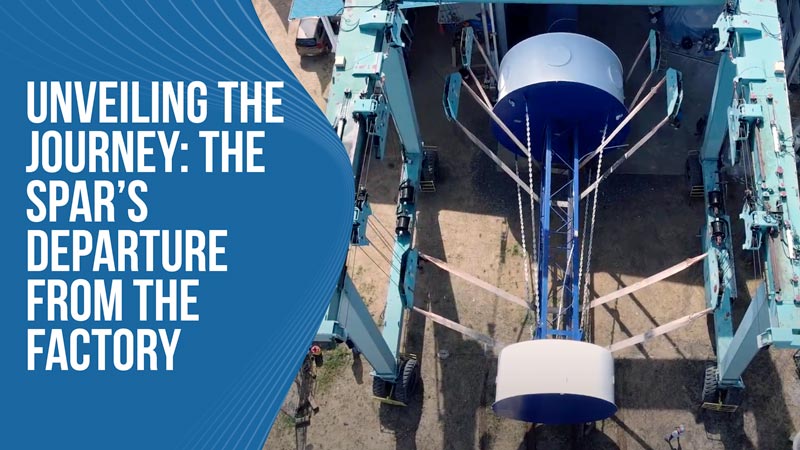 Less than 1 minute
Reading TIme:
Minutes
Embarking on a new venture is a mix of exhilaration and trepidation. That initial step into the entrepreneurial world triggers an adrenaline rush, but it's also accompanied by a subtle layer of anxiety. This balance between excitement and apprehension is the very force driving innovation. Our latest addition, the SeaPod Deep, is being assembled and after 7 months of construction, we successfully deployed the spar!
Take note, groundbreaking ventures are not for the faint-hearted, particularly when unexpected challenges unfold in the public eye. At Ocean Builders we take risks, learn from setbacks, and ultimately fulfill our aspirations.
Last week marked the commencement of yet another extraordinary expedition led by Ocean Builders' Chief Engineer Rudi Koch, and his dedicated team. Chronicled to inspire all those bold enough to venture into unexplored realms and push the boundaries of human achievement, serving as a reminder to never give up.
Follow us as we float into the extraordinary!
Beneath a clear sky and amidst rising humidity, there was no shelter from the relentless sun. The factory buzzed with anticipation, for significant events always evoke profound emotions. The journey to deploy the spar into the deep waters was underway, marking the culmination of months of unwavering effort and the moment to finally set their plans into action.
The travelift had arrived, the telehandler stood at the ready, and the team was meticulously prepared, swiftly securing the straps beneath the spar. Slowly, the spar began its ascent, and it was time to bid farewell, everyone fully aware of the challenges that lay ahead. The welders, the custodians of their hard work, ensured that the spar would stand tall in the ocean by nightfall.
The factory, once a hive of activity with all the teams working diligently inside, now fell eerily quiet, with only the Eco Pod remaining. With the fiberglass team offering their best wishes, a moment of silence enveloped the factory as they watched the travelift take away the spar. After a brief moment of rest, the team sprang back into action, preparing the Eco Pod for her own impending move.
GET THE LATEST UPDATES
Want to find out the latest updates?
Submit your email and we will keep in touch.
GET THE LATEST UPDATES
Want to find out the latest updates?
Submit your email and we will keep in touch.